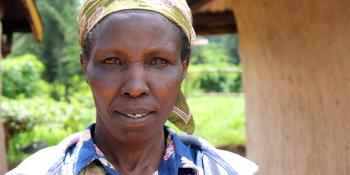 Housing Microfinance
Europe, Middle East and Africa
About 97 to 99 percent of people in sub-Saharan Africa do not have access to formal financing –  credit, savings, mortgages – that will let them start building or improving a home. Traditionally, they build home gradually as their resources allow. These families cannot afford a long-term, traditional mortgage. They build in stages – creating a makeshift shelter and eventually replacing it with permanent materials and expanding it. 
How does housing microfinance work?
Housing microfinance loans have relatively short repayment periods, small amounts, and little or no collateral required. Typically, families use them for roof reconstruction, adding toilets and running water, installing heating and improving insulation.
Habitat does not issue microfinance loans itself but collaborates with partner microfinance institutions. While partners provide loans, Habitat helps partners to develop housing loans, provides trainings to homeowners on managing their loans, and offer construction assistance.
Where does housing microfinance work?
In partnership with the Mastercard Foundation, Habitat for Humanity through its Terwilliger Center for Innovation in Shelter is providing technical assistance to six leading financial institutions in Uganda and Kenya to develop housing microfinance products and services to serve people living on less than US$5 per day. 
The "Building Assets, Unlocking Access" project has helped more than 70,000 families in Uganda and Kenya access loans to secure adequate housing and improve their living conditions. Moreover, US$50 million in capital has been mobilized for the advancement of incremental housing microfinance loans across the two countries. 
Additional resources:

Building the Business Case for Housing Microfinance: Sub-Saharan Africa
This publication looks at the demand for housing microfinance, its value proposition and the competitive advantage of differentiated housing microfinance products. It identifies factors key to the success and profitability of housing microfinance products, based on analysis of the work of Uganda's Centenary Bank and Kenya Women Microfinance Bank.
Maintaining a Healthy Portfolio Through Proactive Loan Delinquency Management
A microfinance institution's biggest and most important asset is its loan portfolio.  Keeping the portfolio healthy is essential to reaching and maintaining profitability. This brief explain why it is important to conduct loan delinquency management trainings and what should be included in them. 
Housing Microfinance Clients Profiles in Kenya and Uganda
This publication, produced for the Building Assets, Unlocking Access project, offers a snapshot of housing microfinance clients' demographics, income, living conditions and typical home improvements done with housing microfinance loans. The project is reaching not only informal workers with unsteady incomes but also salaried employees, the income level of at least 76% falls under US$10 per day and at least 39% falls under US$5. Through client stories we see how housing microfinance helps the clients not only to improve their homes but their quality of life.