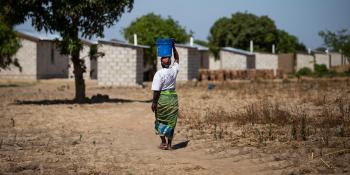 About Habitat for Humanity
Europe, Middle East and Africa
Habitat for Humanity is a nonprofit housing organization working to empower people in the world's poorest communities to overcome the chronic lack of decent housing.
Our vision is a world where everyone has a decent place to live. We are therefore constantly looking for new solutions that would make adequate housing accessible and affordable for all.
Housing solutions
Because housing problems vary depending on where people live, we work in close cooperation with local communities and together we seek adequate housing solutions. We help people in need to build, repair and renovate homes. The future homeowners work alongside volunteers and pay an affordable mortgage.
We help to make buildings more energy efficient, provide water and sanitation solutions, mitigate effects of disasters and support housing microfinance loans. 
We also seek to influence the way housing and related shelter issues are assessed, prioritized and funded by local, national and international governments and inter-government forums.
But we alone can't solve the 'silent emergency', in which so many millions still suffer from poor housing conditions and deprivation. To build a world where everyone has a decent place to live, we work together with beneficiaries, volunteers and partners.
Read our stories, subscribe to our newsletter or contact us directly to learn more about the impact of our work.
Habitat for Humanity's vision: 
A world where everyone has a decent place to live.
Donate
Families who partner with us build their own homes alongside volunteers, pay an affordable mortgage and are grateful for your help.