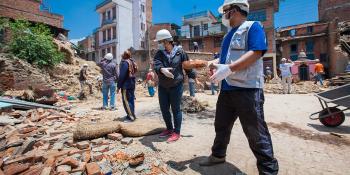 Disaster response
Habitat for Humanity Europe, Middle East and Africa
Natural disasters, war and other catastrophes blight the lives of people around the world leaving people displaced, traumatized and vulnerable.
Disaster brings other short-term and long-term dangers: homelessness, famine, disease and insecurity. For survivors, the road to rebuilding their lives and their communities can be long, hard and uncertain.
This is why Habitat for Humanity works tirelessly with donors and other agencies to help people in disaster-affected areas move from ruin to recovery. We have helped people in disaster-affected areas including the Nepal and Haitian catastrophes, as well as thousands following repeated floods of the Danube in Romania.
We have more than 40 years of experience building safe, affordable housing. It is one of our key areas of expertise. But our disaster response work covers many other areas including:    
Disaster risk reduction and mitigation
Disaster resilient construction techniques
Disaster response technical assistance
Community preparedness
Disaster risk reduction training 
Climate change adaptation
Disaster relief
We are an active member of the Shelter Cluster: Inter-Agency Standing Committee (IASC). Also, as a nonprofit, nonpartisan global housing organisation, governments, foundations and public and private sector organisations trust us to work with them on disaster reduction, resiliency and recovery.