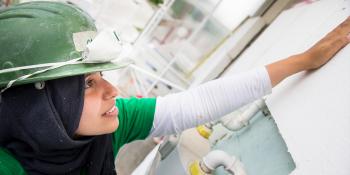 School volunteering
Europe, the Middle East and Africa
Habitat for Humanity is a valued partner to more than 50 international schools, colleges and universities around the world.
After a three-year hiatus caused by the COVID-19 pandemic, Habitat's Global Village volunteer program is gradually resuming.
As part of this process, engagement of volunteers under 18-years-old as part of Global Village builds is currently on hold, subject to review as we restart a retooled and even more impactful version of the global program.
We help educational institutions fulfill their Community Action Service programs, or other relevant education modules, through high quality education and volunteer initiatives.
Our Global Village volunteer program means that students will work with local volunteers and future homeowners to help them build their home. The work is conducted under the supervision of skilled workmen and project managers.
Students can join even if they have no prior experience in building, construction or other volunteer work.
Benefits of volunteering for students
Many students describe their volunteer experience as transformational or eye-opening. They finish the volunteer trip with a deeper knowledge and understanding for other cultures, countries and the effects of housing poverty.
Besides plenty of time to relax and creating unforgettable memories with the teammates and local community, please understand that volunteering requires commitment and hard work to achieve our goals.
Why to volunteer with Habitat for Humanity
Volunteering overseas is simple, because we will assist you the whole time. We provide you with a Habitat volunteer coordinator, who will help you choose the right program and place. They will also help you budget, fundraise and sort out all the other essential things you need to know about safety, security and health.
We also have skilled chaperones who will provide online training to help students and schools understand everything there is to know about your project and Habitat's work. 
As a global, nonprofit organisation with nearly 30 years of experience in volunteering, working with Habitat for Humanity means you are partnering with an organisation with the knowledge and systems to ensure your volunteer trip is successful, safe, secure and ethical.
Find out more about Global Village volunteer program.
"It was an absolutely fabulous experience, on all kinds of levels, professionally, culturally, emotionally, and it's a great feeling to help people that need it a lot."
— Joeri Hamal, volunteer in Romania