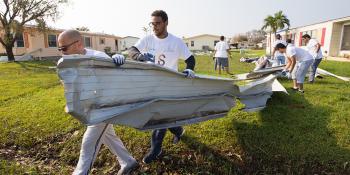 Hurricane Irma recovery
On Sept. 10, 2017, Hurricane Irma made landfall in Florida, causing widespread devastation, forcing thousands of people out of damaged homes and communities, and an estimated total of $50 billion in damages.
In the immediate aftermath of the hurricane, we assessed the damage and committed to helping hurricane-affected families over the next three to five years as part of our Habitat Hammers Back initiative. With the generous support of donors and more than 3,200 local volunteers, Habitat has made notable progress working with homeowners, other nonprofits and the public sector to help communities recover in the affected region.
We helped in the emergency phase, managing Hurricane Irma damage by cleaning out houses, undertaking the process of mold remediation, and assisting homeowners with insurance and FEMA processes, as well as other non-construction services. We are executing a long-term plan to address what has been deemed the worst housing crisis caused by disasters in our nation's history.
In Florida, as of July 2018, Habitat has accomplished:
5,093 disaster relief and recovery services delivered, including emergency repairs, cleanup, case management assistance and debris removal.

472 construction projects completed, including 455 home repairs, one recycle and 16 new homes.

Funded 47 loans to homeowners to fill insurance or FEMA coverage gaps.
For more Hurricane Irma update information, read our one-year hurricane recovery progress report.
As we continue our disaster recovery work, we are operating on multiple fronts to meet local needs. We are confident that with your support, we will see more and more families back in their homes and restoring their lives with each passing month.
Habitat affiliates in Florida are seeking volunteers to help with the repairs and new construction efforts. View our current long-term Hurricane Irma volunteer opportunities or contact your local Habitat organization.
Habitat is also focused on helping families prepare for the future hurricanes. Through the Habitat Ready program, homeowners will have access to resources that will help them make a family preparedness plan, put together a supply kit and be ready to respond to common hazards in their community.