In the wake of Hurricane Irma, families piece together their homes and their lives with the support of Habitat Hammers Back, Habitat's hurricane recovery initiative.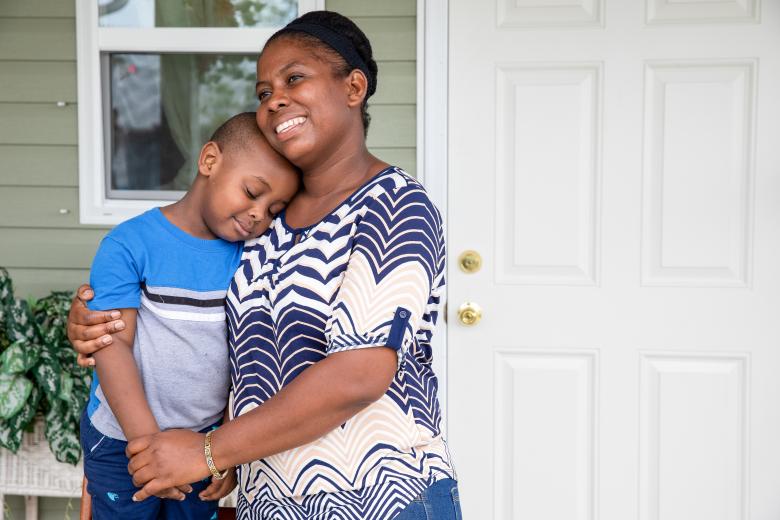 A new start in Immokalee
As Hurricane Irma swept through Immokalee, it took much of Magdala's roof along with it. "When it rained outside," she says, "it rained inside."
Her apartment was officially red-tagged by the Federal Emergency Management Agency, signifying that it was unsafe to live in. However, with nowhere else to go, Magdala remained.
Every day, with her mop and bucket in hand, Magdala went to battle against the rain that streamed through the ceiling and waited for her landlord to make the necessary repairs. As weeks turned into months, as the walls yellowed and mold sprouted from the constant water damage, she realized nothing was going to change. She reached out to Habitat for Humanity of Collier County to bring that change herself.
Magdala, who immigrated from Haiti four years ago to create a better a life for herself, is no stranger to hard work. She has held multiple jobs to care for her young family here and her aging mother back home. She returned to school to improve her English and her opportunities. When she learned about Habitat's sweat equity requirement to earn a home, she excitedly dove in, eager to prove herself.
She visited the construction site of her future home whenever she could, squeezing in hours of building between shifts at work. "If I wanted a house, I knew I must work hard," she says. She reached her required 500 hours in record time.
"My apartment was so bad, I felt afraid. Now everything is different," Magdala says, having moved into her new Habitat home in summer 2018.
No longer worried about the threat of rain, Magdala has time to garden with her 3-year-old son, Zachary. Her Habitat home no longer burdens her financially, allowing for investments in her family's future — including Zachary's health and education.
"I feel better now. I feel safer," she says, referring to the hurricane code standards that her Habitat home meets. "And I just feel happy — so happy."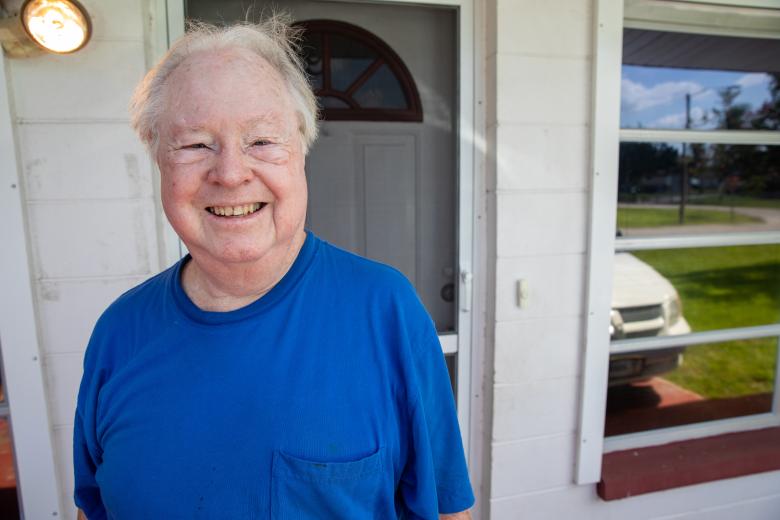 Back on track in Lehigh Acres
Between the summer tourists and winter snowbirds, Tom and his wife, Joan, stand out in the Lee County neighborhood in southwest Florida that they call home year-round.
"I know the people that the streets in Lehigh are named after," boasts Tom, who moved here as a young man in 1960. However, in all their decades of withstanding Florida's harsh hurricane season, the couple had never witnessed a storm like Irma.
With sustained winds of 95 miles per hour and gusts reaching much higher, trees, power lines and roofs proved no match for Irma's wrath. For nearly a month after the storm had dissipated, Tom and Joan relied on their gasoline-powered generator to keep a single light on in the evenings and to charge their phone.
Their wind-damaged roof no longer protected them from Florida's regular rainstorms as water trickled into their living room with every afternoon shower. The pair, who have both been retired for more than 20 years now, didn't have the resources to repair the wind damage and halt the spreading water damage.
The only way they could afford their monthly homeowners insurance on their fixed income was to select a high deductible plan — one that they would never be able to afford to meet.
"We didn't know what we were going to do to come up with the funds," Tom says. If it wasn't for the guidance of their oldest daughter, Marie, who told them about Habitat Lee and Hendry Counties, he admits he still would be trying to figure that out.
Now with a new roof in place and new drywall installed, Tom and Joan are back to enjoying their life together. "We're pleased as we could be with what Habitat did for us. At our age, we're never going to need another roof," Tom says. "The people we have met at Habitat are really fantastic people, and we're so grateful for all of them."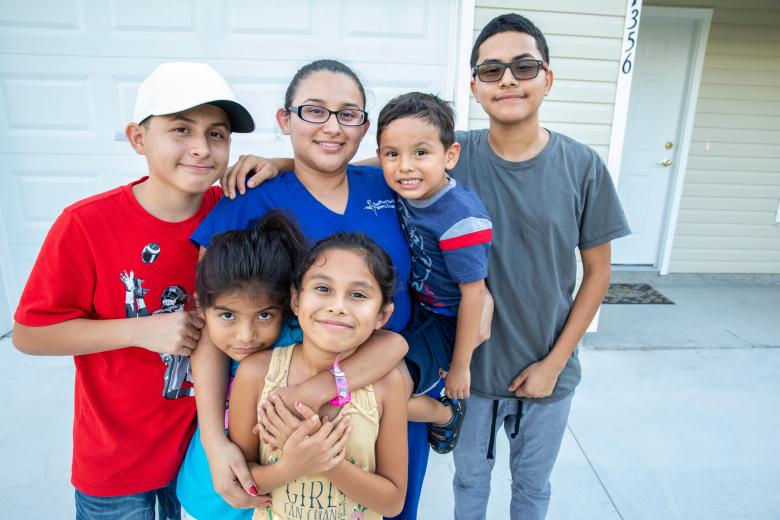 On a path to stability in San Carlos
Of all the tolls that Hurricane Irma took, it was the emotional one that hit Ivonne hardest.
"You're supposed to provide for your kids, to make sure they have everything they need — clothes on their backs, food on the table, a roof over their heads," she shares, holding back tears. "I wasn't able to do that for them at one point. I felt like I wasn't doing my job as a parent."
After evacuating and returning, the family discovered flooding from Irma had left their home in ruins. The only salvageable belongings were a few articles of clothing. Baby pictures, toys, furniture and their car were among the items destroyed.
As they tried to figure out where to go next, the Federal Emergency Management Agency provided funding for a single hotel room for Ivonne, her five children and their dog, Roy.
It was during one of those long nights with all the kids piled up and asleep on the bed that Ivonne filled out her Habitat application. With it, she included a heartfelt letter about what the family had been through, from sleeping in their car those first few nights when hotels weren't available, to her daughter telling her that she was being bullied at school for being homeless. "Please," she closed the letter, "help me help my family help ourselves."
Soon after, Ivonne's request was accepted. Over the next nine months, while she and the kids lived in a one-bedroom trailer with her mom, Ivonne worked weekends alongside volunteers from across the state to build her family's new home. The process of physically rebuilding her life brought her back to herself, renewing her confidence as a parent.
"Because of Habitat," Ivonne says, "I feel that I can call myself a mom. My kids have what they need now, and I can provide for them as a parent."
In a way, the storm brought her family closer, she says, putting them on a path to greater long-term stability. "We had to go through that," she says, "to get to where we are now."
Without waiting to buy furniture, Ivonne, the children and of course Roy the dog, moved in the day the home closed, spending the night in a pile of blankets in the living room, giggling and marveling at their new home and the opportunities it has opened for them.
While she is still sad about what was lost in the flood, Ivonne is focusing on the good. "I don't want to complain about what I don't have, I just want to be thankful for what I do — and what I have now is more than enough."