Natria was sure the message on her voicemail was a joke. Why would anyone from Habitat for Humanity be calling out of the blue, asking if she wanted to become a homeowner? "I said to myself, 'This can't be real.'"
It was real, and it wasn't out of the blue. Natria's name was on a list compiled by FEMA of people displaced when Hurricane Irma barreled through central Florida in September.
As a major partner in the local recovery effort, Habitat for Humanity of Highlands County reached out to the people on that list and has begun working with families interested in becoming future homeowners.
"After the hurricane, we felt that we needed to step up and serve our community," says Habitat Highlands County executive director Sarah Creekmore. "We felt that this was something that God wanted us to do."
Hurricane Irma damaged some 13,000 residences in Highlands County. The county has deemed 144 of them uninhabitable and estimated the overall residential damage at $360 million. Almost one-fifth of the houses in Highlands County sustained roof damage during the hurricane. In response, Highlands County Habitat has started a critical home repair program to help families replace siding and drywall, get rid of mold and fix roofs.
"There are a lot of people hurting here right now," says Brian Krpata, who recently joined Habitat Highlands County as the disaster recovery manager. Before coming to Habitat, he was managing properties and selling real estate. He also has built luxury condos, a big change from what he is doing now. "Habitat was one of those things where I felt the calling. I have the skills and experience to do this," says Krpata, who has taken on the added responsibility of heading Highlands County's long-term recovery committee.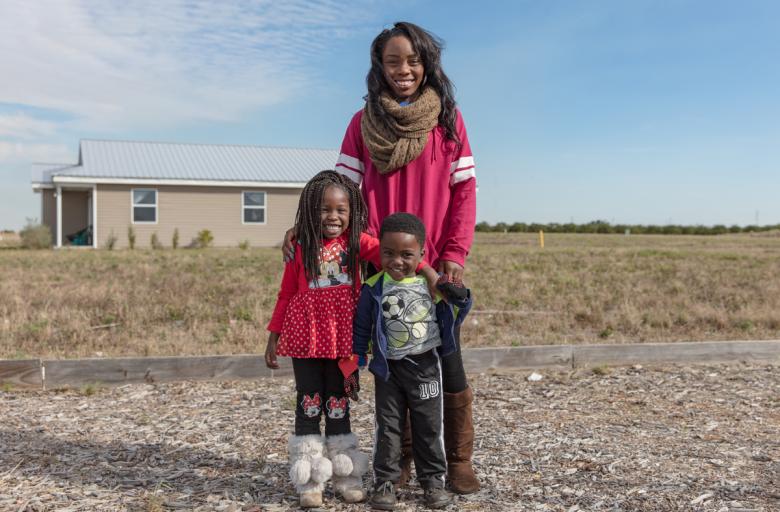 Besides partnering with the families who need house repairs, Habitat Highlands County also plans to build 40 homes over the next four years. The houses will be part of a new 60-house Habitat subdivision already going up beside an orange grove. "We are aspiring to fill it with families displaced by the hurricane," Creekmore says.
Natria is one of those families. The night Hurricane Irma hit, she and her children, 5-year-old Leayanah and 2-year-old Lamar, were at home. Part of the roof caved in, and the apartment started to flood. "The first thing that came to my mind is, 'We are going to die,'" Natria says. They were rescued by emergency responders, and FEMA relocated the family to a motel about 45 minutes from where Natria works as a teacher at a childcare facility.
"It has been very difficult," she says. "The kids are naturally happy kids, but this has been very crazy. The motel is a very cramped space. We don't have a fridge or microwave or stove."
Natria didn't hesitate after returning that unexpected call from Habitat. "They told me the quicker I could get all my information and come in, the quicker they could move things along. I went in the next day." She already has begun earning her sweat equity hours working in the ReStore. "As a mom, it feels really good to be able to provide a home for my kids," she says. "I still don't believe this is real."
Make a donation
Please give generously so we can serve families impacted by Hurricanes Harvey, Irma and Maria.