Habitat CEO to White House: Nation must support low-income families and the organizations who serve them
ATLANTA (March 25, 2020) — Habitat for Humanity International CEO Jonathan Reckford joined other leaders from the nation's largest nonprofit organizations on a phone call with President Trump, Vice President Mike Pence and Surgeon General Jerome Adams today, and continues to urge them to prioritize the needs of low-income families and the organizations that serve them.
"The COVID-19 pandemic is a public health emergency. The longer it goes on, the more it also becomes a housing emergency," Reckford said. "In any crisis, it is always those with the least who are harmed the most. As we approach the end of the month, millions of families who have lost income will soon face the impossible decision of making rent or keeping food on the table.
"Our nation's leaders are taking extraordinary actions to protect the economy through support of workers and businesses. Washington has more work to do.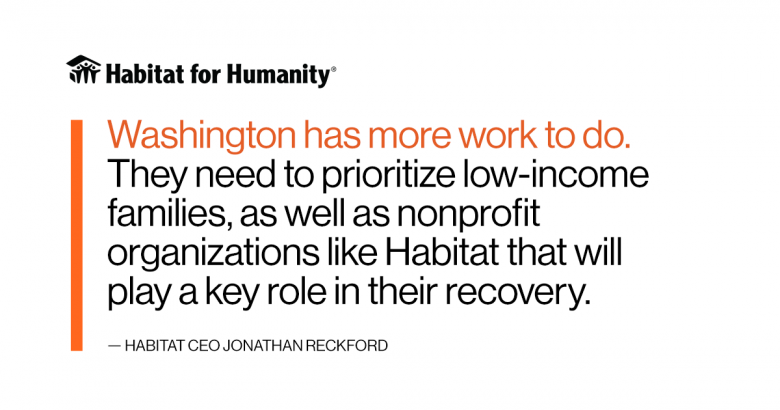 "The White House and Congress need to prioritize support for low-income families, as well as come to the aid of nonprofit organizations like Habitat that will play a key role in their recovery. Congress's support of these organizations now will allow us to be ready to help our communities build back from this pandemic."
Habitat for Humanity International has worked in coalition with other leading nonprofits to lobby Congress to support measures that aid nonprofits and the people the organizations serve. The latest legislative agreement includes priorities Habitat sought, including:
An SBA loan program that will allow nonprofits like Habitat secure bridge funding during the economic downturn;

A universal charitable tax deduction (capped at $300); and

$5 billion in community development block grants, and additional funds for state and local governments.
Habitat for Humanity will continue pressing on for additional measures, including:
Language to ensure housing stability for all, including through the suspension of evictions and foreclosures during the pandemic;

Dedicated emergency funding for the nonprofit sector; and

An enhanced universal charitable tax deduction, allowing taxpayers to deduct up to $2,000 in donations to nonprofits.
To add your voice in support of these efforts, visit habitat.org/act-now-COVID-19.
About Habitat for Humanity
Driven by the vision that everyone needs a decent place to live, Habitat for Humanity began in 1976 as a grassroots effort on a community farm in southern Georgia. The Christian housing organization has since grown to become a leading global nonprofit working in local communities across all 50 states in the U.S. and in more than 70 countries. Families and individuals in need of a hand up partner with Habitat for Humanity to build or improve a place they can call home. Habitat homeowners help build their own homes alongside volunteers and pay an affordable mortgage. Through financial support, volunteering or adding a voice to support affordable housing, everyone can help families achieve the strength, stability and self-reliance they need to build better lives for themselves. Through shelter, we empower. To learn more, visit habitat.org.