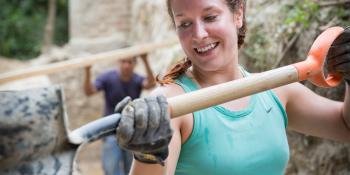 Disaster response volunteer opportunities
Volunteers greatly increase Habitat for Humanity's overall ability to respond to and assist families vulnerable to disaster by enhancing disaster recovery efforts and restoration of hope.
Our Disaster Response staff helps disaster-affected affiliates organize community clean-up efforts, assess impact and develop a response plan based on needs and available resources. Habitat's goal is to help low-income families and individuals get back into their homes and works diligently with local partners to identify meaningful volunteer opportunities to assist survivors help rebuild their community.
Habitat actively works to determine the needs of these communities and local hosting capacity before placing volunteers for response efforts. Mobilizing and properly managing an influx of volunteers after a disaster can be challenging. Community-based responses using volunteers require strategic planning and tactical partnerships.
While volunteers may be needed immediately following a disaster, Habitat's position as a nonprofit leader in rebuilding communities is made possible by using volunteers throughout the recovery phase, long after the initial disaster.
Interested in volunteering?
Contact our Partner Service Center to register your individual or group volunteering interest. Phone: 1-800-422-4828 Email: [email protected]
Additional resources
Disaster Corps
Join Habitat's team of volunteer professionals trained to work in disaster settings while providing field and technical support to affiliates.
Disaster Rebuild Team
This team is comprised of RV Care-A-Vanners who have received Disaster Corps training and can be deployed in the recovery phase of a disaster to assist affiliates.
Hurricane recovery


Seewhere Habitat is currently engaged in long-term recovery work, and where volunteer assistance is needed and welcome.