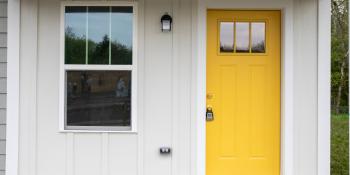 Research series: How does homeownership contribute to wealth building?
Decent, affordable housing provides a solid foundation for households, from economic stability to increased access to education. However, low-income households and households of color in the U.S. have limited access to homeownership due to barriers such as limited supply of affordable housing, restricted access to credit and systemic inequities.
Through a series of evidence briefs, Habitat is bringing to light research on the impact that affordable housing has on individuals and families at home and beyond. This brief looks at how homeownership can be a catalyst to wealth building for low-income households and households of color. Home equity accounts for over half their net wealth, but these gains from homeownership vary by income, gender and race/ethnicity. Read the research highlights below and download the full brief.
Research highlights
Homeownership promotes wealth building by acting as a forced savings mechanism and through home value appreciation. Wealth building hinges on the homeowners' ability to build home equity. 
Key factors to building home equity

for low-income households

 
Providing affordable financing and refinancing loans at lower interest.

Sustaining homeownership to allow homebuyers to recoup the transaction costs associated with the purchase of a home and to weather home value fluctuations.

Purchasing homes with appreciating home values that increase the equity in the home, especially at the time of resale, but the rate of appreciation depends on the timing and location of the home purchase.  
Key barriers to homeownership for women

​​​​​​
Single women pay approximately 1%-2% more for comparable properties than single men, and then sell these homes for 2%-3% less. 
Key barriers to building home equity

for Black and Hispanic/Latinx households

 
Black and Hispanic/Latinx homebuyers tend to use debt to finance homeownership and face more expensive mortgage financing, paying higher mortgage rates. 

Homes purchased by Black homebuyers tend to be lower-valued, appreciate more slowly and have higher property taxes. 

Black and Hispanic/Latinx households are less likely to sustain homeownership.