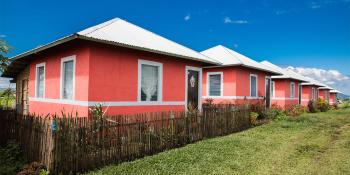 MicroBuild Fund
Mobilizing capital to the housing sector
The Terwilliger Center mobilizes the flow of capital to the housing sector allowing financial institutions and other housing market actors to provide the products and services needed by low-income households to build and expand their shelters.
Efforts in this area include establishing the first impact investing fund dedicated exclusively to enabling housing microfinance, the MicroBuild Fund, and launching the Shelter Venture Lab Fund, which facilitates early investment in innovate solutions for core housing elements. Through these initiatives, we work to catalyze the flow of investment capital to the affordable housing market to further expand access to improved housing for low-income people.
MicroBuild Fund
Habitat's MicroBuild Fund is the first housing-focused microfinance investment vehicle dedicated to helping low-income families. The fund lends to microfinance institutions, which in turn provide small loans to families to build safe, decent and durable homes as their finances allow. The fund has grown rapidly and has provided access to better housing for more than 643,000 people as of September 30, 2018.
As of September 30, 2018, MicroBuild has approved US$124.6 million across 54 institutions in 30 countries, of which US$110.5 million has been disbursed to 50 institutions in 30 countries. Further, investee institutions have provided an additional US$376 million in housing microfinance, representing a leverage multiplier of 3.71 times the invested capital from MicroBuild.
How does MicroBuild work?
The MicroBuild Fund is a $100 million fund that supplies debt capital and techni­cal expertise to help microfinance institutions increase the availability of housing loan products for their low-income customers. MicroBuild has helped microfinance institutions pilot new housing microfinance products and has fostered capital investment and specialized technical assistance through the Terwilliger Center to help design or enhance these products.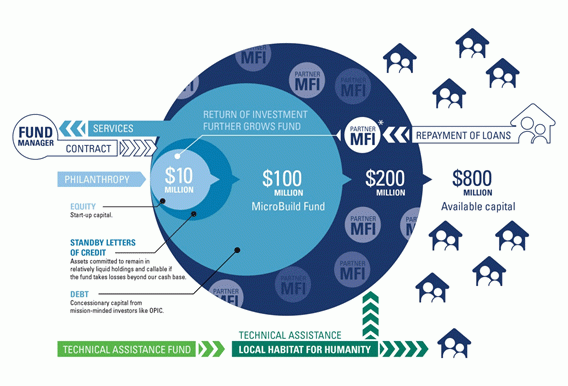 MicroBuild is its own limited liability company, controlled by Habitat for Humanity International. Triple Jump, Omidyar Network and MetLife Foundation serve as partners and co-owners of the fund. Triple Jump, a social investment fund manager partially owned by Oxfam Netherlands, serves as the fund manager that handles due diligence and manages the transactions with investees.
Habitat has committed at least $10 million in technical assistance to MicroBuild. Habitat's network of worldwide regional offices and national organizations support MicroBuild by providing technical assistance through Habitat's Terwilliger Center for Innovation in Shelter to eligible microfinance institutions that receive capital from MicroBuild.
Leading microfinance and impact fund managers including for MicroBuild have signed a memorandum of understanding for debt refinancing coordination principles to support the sector during the COVID-19 pandemic. 
MicroBuild annual reports
Investment criteria
Habitat's MicroBuild requires that financial institutions receiving and disbursing funds meet the following criteria:
Institutional and financial criteria
Operationally sustainable: Operational self-sufficiency greater than 100 percent.
Good portfolio quality: Portfolio at risk and write-offs less than 10 percent.
Reasonable leverage of debt/equity.
Strong social performance.
Audited financial statements of more than three years.
Strong management and good corporate governance.
Gross loan portfolio greater than US$2 million.
Housing microfinance criteria
Commitment from management to housing microfinance.
Housing microfinance exists as an identifiable and separate product in the management information system.
A growing housing microfinance portfolio of more than US$300,000.
Interest in supporting end clients to build quality homes and home improvements.
MicroBuild India
MicroBuild India is a housing finance company based in Bangalore, India, that is majority-owned by Habitat for Humanity International. MicroBuild India delivers housing microfinance services to low-income households in India through wholesale lending to microfinance institutions and retail lending through a business correspondent model. As of September 30, 2018, the company has disbursed 885 million rupees (US$12 million) to 21 microfinance institutions in India, thereby helping more than 130,000 people obtain access to better housing. Further, investee institutions have provided an additional 5,372 million rupees (US$72.6 million) in housing microfinance.
Members of the Terwilliger Center serve on the board of MicroBuild India and advise the CEO on strategy and operations.
Contact us with any questions.