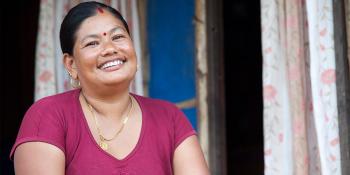 Housing products and services
Facilitating and advising housing market actors
We work with numerous market actors within housing market systems by supporting local firms and expanding innovative and client-responsive services, products and financing so that low-income households can improve their shelter more effectively and efficiently.
Our strategy focuses on financial inclusion and housing market systems and entrepreneurship, addressing both the supply and demand sides of housing market systems. Through market evaluations, we are able to advise firms on the needs of the homeowners in their markets and on the design of products and services to meet these needs in a sustainable way.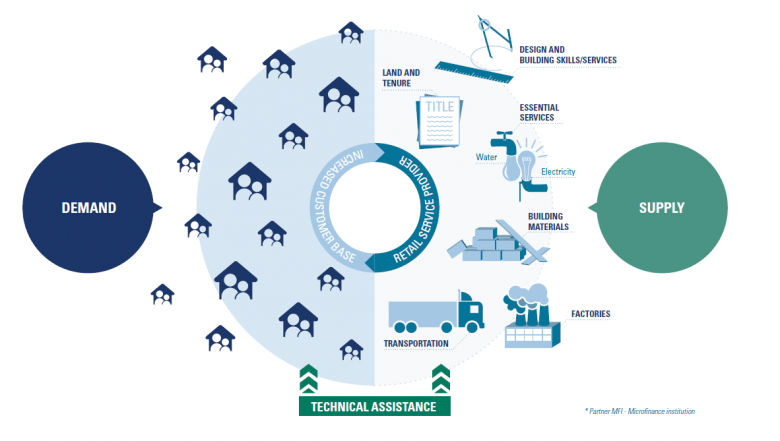 Financial inclusion
Housing microfinance
One of the key focus areas of our work is on affordable housing finance. The people we help commonly engage in building, repairing and improving their shelter on an incremental basis. They will gradually accumulate supplies until they are able to initiate each stage of the project. The work may start and stop as resources are available.
Through housing microfinance products, families are able to obtain funds for the purchase of construction materials to complete their projects in a shorter time frame than if they were doing it as their own resources become available. Families may also obtain funds for the purchase of other housing elements such as solar panels, sanitation solutions, etc. Housing microfinance products reduce the risk of loss a homeowner faces and hasten the benefits of affordable housing, which include improved health, education and a sense of security.
The Terwilliger Center advises financial institutions on the design, implementation and expansion of housing finance products and services, especially, housing microfinance products. Services offered by the Terwilliger Center include:
Product design, from market assessment to pilot plan, implementation and monitoring.
Development of nonfinancial housing support service models that contribute to enhanced quality of the building and/or shelter improvement process.
Advising on startup financing for these products.
Through 2016, the Terwilliger Center has trained more than 850 practitioners in housing microfinance product development. It has also directly supported over 71 financial institutions in the development of housing microfinance products by providing or assisting with:
Market research.
Product design.
Pilot planning and implementation, including monitoring and evaluation.
Product review and refinement.
Expansion plans.
To learn more about housing microfinance, check out our articles and case studies on housing microfinance, look through the Housing Microfinance Handbook and read our flagship report, the State of Housing Microfinance.
Housing market systems and entrepreneurship
The people we help often lack access to adequate and affordable materials and services needed to build, repair and improve their shelter. These families often use sub-standard materials, designs and construction methods, resulting in more costly, inferior and unsafe housing.
Through our housing market systems approach, the Terwilliger Center influences the functioning of markets to better meet low-income families' need for housing products and services by looking closely at the supply of housing and identifying gaps in the market that keep low-income households from accessing and using adequate and affordable construction solutions.
To address the underlying causes of these market failures, the Terwilliger Center provides support to private sector firms and other influential actors in the market to improve their ability to develop, market and distribute housing-related products and services which meet the needs of low-income families. This is carried out in multiple ways, including:
Helping firms adapt their products, marketing and sales channels to better meet household's needs.
Providing support to the small and medium scale enterprises that larger firms source from or sell to in their supply chains.
Working with promising entrepreneurs and "small but growing businesses" that are bringing the next generation of housing products and services to the market.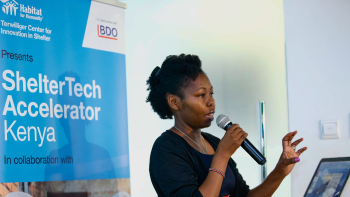 Parallel to these efforts, the Terwilliger Center seeks to raise the level of performance of the housing market system at large, through strategies that enhance or change consumer behavior and improve building codes or local housing policies to make them more responsive to the under-served. We also seek to stimulate replication by other market players as a means of generating wider change within the market.
The Terwilliger Center's support is structured in a way that leaves the market participants with ownership and responsibility for the initiatives so that the approaches are sustainable and do not rely on ongoing financial support. Working in this way, as a facilitator, and catalyzing changes in housing market systems results in more accessible, inclusive and resilient housing markets in the long-term.
Interested in working with us?
Connect with us by email at [email protected].
Habitat for Humanity International
Terwilliger Center for Innovation in Shelter
285 Peachtree Center Ave NE
Suite 2700
Atlanta, GA 30303
Latin America and the Caribbean: [email protected]
Europe, Middle East and Africa: [email protected]
Asia and the Pacific: [email protected]
Consultants: Send your CV to [email protected]