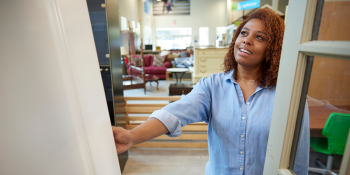 Find and donate building materials at the Habitat ReStore
Not your everyday building supply stores, Habitat for Humanity ReStores accept and sell a wide variety of new and used building materials. When donated goods are sold, they are kept out of your local landfill and given a second life.
Honoring Rosalynn Carter
Sign our memory book as Habitat remembers Rosalynn Carter and honors a life of grace, compassion and service.
Find or donate building materials at your local Habitat ReStore
Looking for new and gently used building supplies? Have some leftover materials from a recent home remodel you're ready to donate? Whether you are looking to shop or donate building materials, Habitat ReStore can help. Use the search above to find and contact the store closest to you.
What building materials can you find at your local Habitat ReStore?
Make Habitat ReStore your first stop for shopping! You'll find items and deals you won't find at other home repair stores. 
Most Habitat ReStores have a wide variety of building materials for sale, and selection at each store will vary depending on what donations they have recently received. See the list at the bottom of this article for materials you may find at Habitat ReStore.
In addition to used items, many stores carry new surplus building materials donated by businesses in your community and around the country.
What building materials donations does Habitat ReStore accept?
Your local Habitat ReStore likely accepts a wide variety of new and gently used home building materials. Many donations come from home renovation projects.
The donations accepted by Habitat ReStores will vary by store, but most will accept the following:
Kitchen cabinets
Doors and windows
Flooring
Unused lumber
Lighting fixtures
Fencing
Bricks/blocks
Enter you ZIP code in the red box to find the contact information for a Habitat ReStore near you. Call, email or stop by to see if your store accepts the building and construction materials you have to donate. Many stores even offer donation pickup.