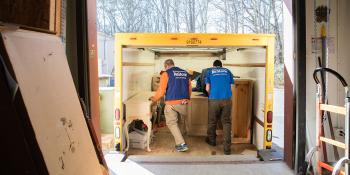 Does Habitat ReStore offer furniture donation pickup?
Yes, most Habitat ReStores offer pickup of furniture donations, as well as other large items including appliances, building materials and more.
How do I schedule a furniture pickup?
Enter your ZIP code in the box below to find the store nearest you.
Contact your local Habitat ReStore to see if they are able to pick up the item or items you have available.
You also can check to see if your store offers an online furniture donation pickup scheduler.
Have your item picked up by trained and courteous Habitat ReStore workers and volunteers, free up some space at your home and help make a difference both in your community and around the world.
How does donating furniture and other large items help Habitat for Humanity?
Your furniture donation is taken back to the Habitat ReStore and sold to someone else in your community that will give it a second life. Proceeds from that sale help Habitat for Humanity provide a decent place to live for people in your community and around the world.
What furniture donations does Habitat ReStore pick up?
The list of accepted donations is a bit different for every Habitat ReStore, but most typically accept the following:
Sofas
Chairs
Dining room tables
Dressers
Bedframes
Coffee tables
End tables
Filing cabinets
Bookshelves
Please note that any upholstered or leather furniture must be free of any tears, stains or pet damage.
Renovating your home? Check out eight things you can donate during your renovation; your Habitat ReStore may be able to pick up those items up, as well.
See even more ways you can make donations on our donate page.
DIY tip #86
Change a light fixture in a room that needs a facelift. Often that is all you need to give an instant update to an otherwise boring or outdated room. Then donate the old fixture to the Habitat ReStore!
Get our guide with over 150 household tips from Habitat supporters like you!