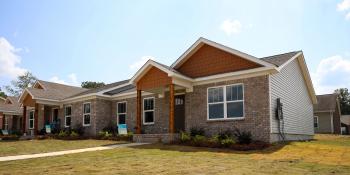 5 qualities of a decent home
Everything Habitat for Humanity does is guided by our vision of a world where everyone has a decent place to live. Globally, Habitat for Humanity helps families build or improve a decent, affordable place that they can call home. While our work might look a little different in each of the 70 countries where we have a presence — based on local needs, styles, climate and materials — the elements that make a home "decent" are universal.
A decent home:
1. Is affordable
An affordable home means a family can cover housing costs and still have ample budget for life's other
necessities: food, health care, transportation, education. As rents and mortgages in the U.S. grow faster than wages, the number of families becoming cost burdened by their housing — meaning they spend more than that 30% — is growing. Too many of our neighbors work hard and still come up short, not because of their own efforts but because of systemic issues and an inequitable economy. Too many essential workers find themselves priced out of the areas where they work. Too many families are denied the personal and economic stability that safe, decent and affordable housing provides. That's why Habitat builds, helps revitalize communities and advocates.
Around the world, Habitat also works to direct investment capital to the housing sector. We want to ensure that housing microfinance is available to more families, that there is an adequate supply of housing products and related services in the market, and we want to facilitate investment in innovative solutions. What that means is that we partner to make affordable construction materials and services like contractors more widely available and that we work to increase access to the small loans that will allow families to incrementally improve their shelter.
By working to increase housing affordability wherever Habitat has a presence, we help families secure a foundation from which to grow and thrive. And we help reinforce the economic and social fabric that binds us all.
2. Safeguards a family's health
Where we live shapes our lives. Just as a high-quality home can keep us well, a poor-quality home can make us sick. Water leaks and pests can trigger asthma. Overcrowding more easily spreads contagious diseases. Unfortunately, as housing costs continue to rise, more and more families are forced to sacrifice the quality of their home for one they can afford. And as a result, their health suffers.
In addition to building new homes that are durable and healthy, Habitat also completes home repairs to improve and preserve existing housing stock. Incremental changes to existing structures — like repairing leaking roofs in the U.S. or replacing dirt floors with concrete ones or installing latrines and access to clean water where families previously had none around the world — can help immediately alleviate the physical threats posed and mental stress caused by living in poor conditions.
By helping more families build or improve the places they call home, we also can build healthier, equitable and resilient communities for generations to come.
3. Is secure
The foundation of a decent home is the land it sits on. Yet more than 70% of the world's population lacks the formal documentation for their land that would protect them against eviction. In many countries, women are especially prone to displacement, particularly after a male head of household dies, due to gender-biased laws that prevent them from owning property.
Guiding and empowering individuals in the legal process to secure permanent land tenure, whereby they have right to occupy their land through titles, and to write wills of their own to maintain that security for their family after they pass on, results in long-lasting stability and freedom. Once these rights are secured, families are more able to invest in their homes and their businesses, improving their standard of living.
4. Is designed to be accessible
Everyone should be able to live safely and independently in their homes, regardless of income or mobility. But for many older adults and individuals with disabilities, that isn't the case.
In the U.S., more than 44% of households need some sort of accessibility feature like grab bars, no-step entrances or widened hallways. Yet fewer than 4% of residential units contain such features for people with even moderate mobility disabilities; only 1% have adequate features for people with more severe disabilities.
For many, maintaining their home can be just as difficult as navigating it. Habitat's Aging in Place program helps residents address both by offering assistance with necessary upkeep like painting, cleaning gutters and repairing porches, as well as more person-specific modifications like building a
wheelchair ramp or installing handrails. Building or repairing and adapting a home to fit the needs of its residents is integral to helping them improve their quality of life and providing the sense of comfort only home can provide.
5. Is safe
Home should be a refuge against the threats of the outside world, whether that's protection during a storm or shelter during a pandemic. It is absolutely essential to welfare and well-being. But for too many, home has become a place to escape from — not to. Exposed wires, doors that don't lock, railings that aren't high enough.
In addition to these kinds of everyday disasters, we know that those already struggling are the ones usually hit hardest when natural disasters strike. Every person deserves the protection that a safe and durable home provides, and so we work with families to help them repair and improve their existing homes and to prepare for and recover from life's unexpected storms.