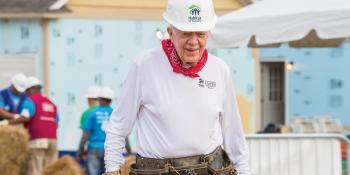 "Service to others is a crucial element in the American character"
Q: We often talk about the benefits of service to strengthening and improving the community at large. But with Habitat, we also often hear the individuals who serve share how their actions help them strengthen and improve their own lives. What do you as an individual like best about service, and why do you think it should be an important part of everyone's life?
A: A Habitat project in a deprived community inspires other property owners in the area to improve other homes and the general environment in the larger neighborhood. Dwellers there get the Habitat spirit of volunteering and helping each other. The Habitat homeowner's family members participate in work on their own homes and are then inspired to help others. Perhaps the most significant after-effect is on the Habitat volunteers who join us in building projects, who almost unanimously agree that the personal benefits to their lives always exceed their own financial contributions, time and effort — and that this incentive lasts for years in the future, or for a lifetime.
Your own service has taken many forms — your time in the Navy, your tenure in public office, your work with Habitat and The Carter Center, your regular presence as a Sunday school teacher. What do all of these kinds of service have in common for you?
Like other Habitat volunteers, I have learned that our greatest blessings come when we are able to improve the lives of others, and this is especially true when those others are desperately poor or in need.
So many people look to you as a model of public service and servant leadership. Tell us where this impulse to serve first originated. Who (or what) inspires you?
My earliest and most basic service inspirations have come from my Christian faith, encouraged by others who have been dedicated to serving others and learning to treat those who are served with mutual respect as equals.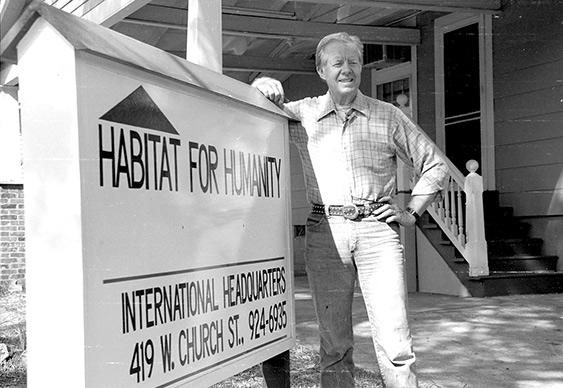 Historically, we as a nation have invested in the concept of service. Why do you think public recognition of and support for service is so vital?
America is the most diverse or heterogeneous nation, comprised primarily by immigrants who were not afraid of an unpredictable future in a strange land. Almost all of them had great need when they arrived here and were then inspired to be of help to others. This concept of service to others is still a crucial element in the American character and has always prevailed in overcoming challenges and correcting societal mistakes.
What would you say to the next generation to help encourage them to serve? How does service impact our collective future?
"Enjoy your American freedom, and utilize it to expand your own opportunities and God-given talents as much as possible. You will find that these investments in helping others will always pay rich dividends."
— Former U.S. President Jimmy Carter, a Habitat volunteer since 1984