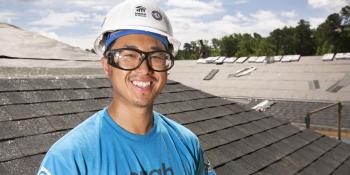 AmeriCorps profile: Yim Yang
A lot of people do service. Yim Yang lives it.
For many years, Yang has volunteered with his Hmong community in Sacramento, California. He has interned as a community organizer and youth activity coordinator with a nonprofit that develops affordable housing communities. And now, as an AmeriCorps member, he is working at Habitat for Humanity of Greater Sacramento as a construction crew leader.
"Now that I am in construction, I just love it, even more than I thought I would," says Yang, who is serving his second year with AmeriCorps. "I get to meet the families. I am working with the volunteers. And I am learning so much about life."
One life lesson has come on the build site from a Habitat volunteer of 27 years. He gave Yang some impromptu advice to plan well for retirement. That way, Yang can spend his post-working years volunteering with Habitat.
Yang also is learning just how hard families work to build their own futures. "A lot of them work two and three jobs, even go to school," he says. "When they see the house built, that is very rewarding for me."
Yang, too, is putting in some double duty. In addition to serving with AmeriCorps, he is taking the classes he needs to enroll in nursing school. He hopes someday to work overseas as a nurse for a nonprofit health organization. In the meantime, he is buoyed by the encouragement he gets from Habitat Sacramento to go to school.
"I'm just really thankful," Yang says. "They make it very easy for me to have a career and continue my education."
Yang also has been making a lot of new friends who share his passion for service at Habitat's AmeriCorps Build-a-Thon, the annual blitz build that draws hundreds of AmeriCorps and alumni to highlight the need for affordable housing. In 2017, Yang participated in the build in Longmont, Colorado.
He recently flew cross-country to participate in the 2018 Build-a-Thon hosted by Habitat Wake County in Raleigh, North Carolina. "It was amazing. I loved it," said Yang, who raised walls, rolled trusses, and put on siding and the roof on one of the 22 homes that were built or repaired during the week.
"We still have our own little chat group going on," he says. "It's fun being around so many like-minded people."