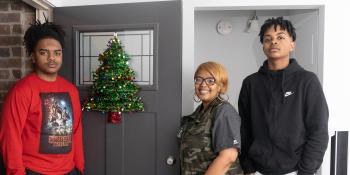 Celebrating a home for the holidays with Habitat
The best Christmas gift they ever received? That's easy, teenagers Jamian and Jaquille say. It's the home their mother built for them.
The holidays for the brothers now are about celebrating the gifts the house keeps giving — a place to study, a place to have friends over, a place to create their family traditions, like grilling pork chops, hamburgers and hot dogs on Christmas Day. "We weren't allowed to grill at our apartment," says 15-year-old Jamian, the self-appointed grill master.
Their mom, Jill, listens as her sons count their blessings and offers a few of her own. Before partnering with Habitat for Humanity Greater Birmingham, she was paying most of her salary from her job at Alabama's organ donation registry counseling families for a too-small apartment where the boys slept on air mattresses in the living room. Now she has a mortgage that is half of what her rent was and her children have rooms of their own — one plastered with University of Alabama posters, the other with posters of chief rival Auburn.
As in many cities across the United States, families in Birmingham are struggling to keep up with the rising cost of housing. "My burdens have been lifted," Jill says, "and I couldn't be more grateful."
Jill did most of the heavy lifting. She built her Habitat home as part of Habitat Birmingham's 2018 Home for the Holidays program, which sees two families build two homes in the two weeks leading up to Christmas each year with the help of local sponsors and their volunteers. Jill put in hundreds of sweat equity hours, took financial and homeowner education classes, and met a host of other requirements before she closed on her house. That commitment and the affordable mortgage she pays each month allow Habitat to partner with families.
"Our work wouldn't be possible without the families who are making a great contribution to their future," says Charles Moore, Habitat Birmingham's president and CEO. While this holds true year-round, the Home for the Holidays program is special. Thanks to the annual build, 22 families now celebrate Christmas in their own homes. "We help families who have a need for housing and what better time to do it."
Christmastime is now even more magical for Jill's family because of where and how they spend it. When they lived in that cramped, overpriced apartment, they rode around looking at other families' decorations. Now they have a shivering snowman in the front yard and a projector that flashes colorful snowflakes on the front of their house. "It is really special that we get to put decorations out," Jamian says. The real Christmas tree that they now have room for is what's special for 13-year-old Jaquille. "It smells good," he says.
Across town, the two families who are building their home as part of the 2019 Home for the Holidays program are thinking about what makes their new house special.
Melonie and her children, 4-year-old Jaysen and 8-month-old Melodie, have been living with her grandmother in the same home where Melonie grew up. "This will be my first time on my own," says Melonie, who works at the local hospital. She's proud of herself for creating this opportunity. "It's been a lot of work, I'm not going to lie," she says. "I do think of it as the Christmas gift that I am giving to my children and to myself."
For Tamika, her new house offers space. "My children need a lot more space to grow into themselves as individuals," she says. "This wouldn't have been possible without Habitat and the people who are taking time away from their families around the holidays to make this a special time for my family."
It also wouldn't have been possible without Tamika, who, in addition to managing a retail store and raising her children, found the hours to put in her sweat equity and meet the other requirements for becoming a Habitat homeowner.
All of her efforts haven't been lost on her 12-year-old daughter, De'Mareyia. "I just want to thank my mom for working so hard to provide a house for me and for my family."