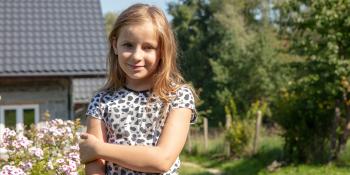 Coming home after a destructive storm
"It is just so beautiful," 10-year-old Oliwia says, looking out of the window onto a meadow with wildflowers.
She and her older sister Angelika haven't been able to agree on what color to paint their room — so white it is. However, with this view of their village in southern Poland, Oliwia doesn't plan to spend time looking at walls.
The young girl continues the tour of what will be her new house once construction is complete. She tears up a little as she talks about the old one. "I always cry when I tell this story," she says. "I don't know why." After telling it, the tears are completely understandable.
Four years ago, a violent storm kicked up as Oliwia's family slept. A 100-foot-tall tree came crashing down on their house. Rain started pouring in. "There was a big hole in the roof," Oliwia says. Luckily no one was hurt, but officials declared her house uninhabitable.
Oliwia, her five siblings and parents first went to live with Oliwia's grandmother, but it didn't take long for the situation there to feel too crowded. It was also damp, which made it hard for her little brother Antonii, who has asthma, to breathe. The family has been living in a temporary apartment in a health center. Oliwia misses her dogs — they aren't allowed in the apartment. "It is hard because we can't really play," she says. Climbing trees and picking apples in her yard with Antonii is one of her favorite things to do.
Oliwia thinks about all of the love that has been poured into this house, the one that will offer her a room with a view.
After the storm, Oliwia's parents were able to find the resources to replace the roof and rebuild the first floor, but so much more needed to be done. "Then I found information on the internet about Habitat for Humanity," says Zofia, Oliwia's mom. "The response from Habitat was very swift."
Habitat Poland has helped the family, providing loans to cover construction costs and hosting Global Village volunteer teams to help with the building. Oliwia loved painting pictures in the concrete with some of the volunteers. She remembers Rebecca from Texas, who sent the family a map of Texas. When it was time for the volunteers to go, they all did the good-bye dance, also known as the hokey pokey. "Even Dad, even though he never weeps, he was crying," Oliwia says.
She thinks about all of the love that has been poured into this house, the one that will offer her a room with a view. "I have a good feeling about it."