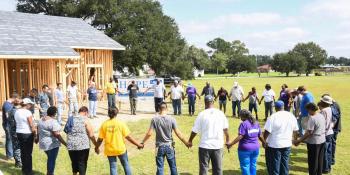 Communities work with Habitat to lift up their neighborhoods
The goal seems simple enough: improve the quality of life of people and the neighborhoods they call home.
The "how" is more complicated. Together, local communities and Habitat for Humanity have developed a new tool, called the Quality of Life Framework, that aims to lift up and bring lasting change to neighborhoods across the United States.
"The framework essentially lays out a process that residents and local partners can follow together to improve quality of life in a neighborhood," says Kelly Cox, Habitat's associate director of neighborhood revitalization.
Relying on residents' dreams and concerns about their neighborhood, the Quality of Life Framework calls for building a strong sense of community and acting on shared resident and community objectives. Depending on the neighborhood, these goals could include improved housing, safety and economic opportunity.
Over five years, local communities and Habitat are testing the framework. The Robert Wood Johnson Foundation — along with Lowe's, Wells Fargo and General Motors — are financial supporters of the initiative.
Here are snapshots of the participating communities, their challenges and aspirations.
Charlottesville, Virginia
Residents of Southwood Mobile Home Park and Habitat Greater Charlottesville have been working hand in hand on plans to transform the 120-acre area into a permanent, sustainable mixed-income neighborhood. Their dream has come closer to reality since the county board of supervisors listened to the heartfelt appeals of residents and unanimously approved a rezoning request that will allow the redevelopment to move forward. Habitat Charlottesville bought Southwood in 2007 with promises to not displace the park's 1,500 residents and to help families meet their housing goals. Residents have owned every stage of the redevelopment planning, already having spent more than 3,000 hours with architects and engineers. The first phase will include construction of up to 155 affordable homes, all crafted around the housing aspirations of the existing community. Southwood residents also have become a power base for the redevelopment, having attended advocacy trainings and meetings to make sure their voices are heard. "The residents owning their power and asserting it is a beautiful thing to see," says Molly McCumber, Habitat Charlottesville's community partnerships coordinator.  
Dacono, Colorado
Residents in The Glens have a straightforward vision for their rural northern Colorado neighborhood: "A quiet, friendly neighborhood where our dreams can come true." The nearly 800 households that make up this former coal-mining town are wasting no time in bringing that vision to life. The first step is ensuring that everyone is engaged and understands the value they bring to the neighborhood. This sense of community has been strengthened through regular resident meetings and seasonal block parties, coalition-sponsored movies in the park and contributions to the city's annual festival. Other efforts to promote cohesion include collecting input to identify common values and goals, training residents to become leaders, distributing quarterly newsletters in both Spanish and English, and installing bulletin boards to celebrate victories and announce future projects.
The effort is paying off in a big way, says Krystal Winship Erazo, neighborhood revitalization manager for Habitat St. Vrain Valley. Through community-wide beautification efforts, critical home repairs for existing homeowners and construction of new affordable houses for first-time Habitat homeowners, residents are rolling up their sleeves and leaning into their combined strength to ensure that The Glens remains affordable and accessible to all seeking to be a part of its future. "I've seen a really transformative spirit come alive," Winship Erazo says. "Folks are extremely energized and inspired and empowered. And they are beginning to see how powerful they actually are."
Lafayette, Louisiana
McComb-Veazey, a historic neighborhood adjacent to downtown Lafayette, has a new Community House. At the direction of the McComb-Veazey Neighborhood Coterie, a coalition of residents and community stakeholders, Lafayette Habitat and partners created the Community House by rehabbing a once boarded-up house. "It is already a catalyst for change," says Tina Shelvin Bingham, chair of the coterie and Lafayette Habitat's community development director. The house has a big wraparound porch and yard that offers older residents a place to socialize and neighborhood children a place to play. It also is a place for regular meetings and family-friendly gatherings as well as programs aimed at sparking resident entrepreneurship and financial independence. "Our goal is to show people how to build their wealth and give them access to different opportunities," Shelvin Bingham says. The coterie is working to develop property it recently acquired adjacent to the Community House. Plans include transforming the site, now an abandoned gas station, into a public market with healthy food options.
Long Beach, California
A colorful mural of diverse people coming together through a heart-shaped opening in a wall now graces Washington Middle School in the Long Beach neighborhood being revitalized. In the artwork, the Statue of Liberty wields the sledgehammer that has created the opening in the wall. The 30,000-square-foot mural titled "Love Beyond Borders" is the culmination of months of collaboration among neighborhood residents, government entities and community partners.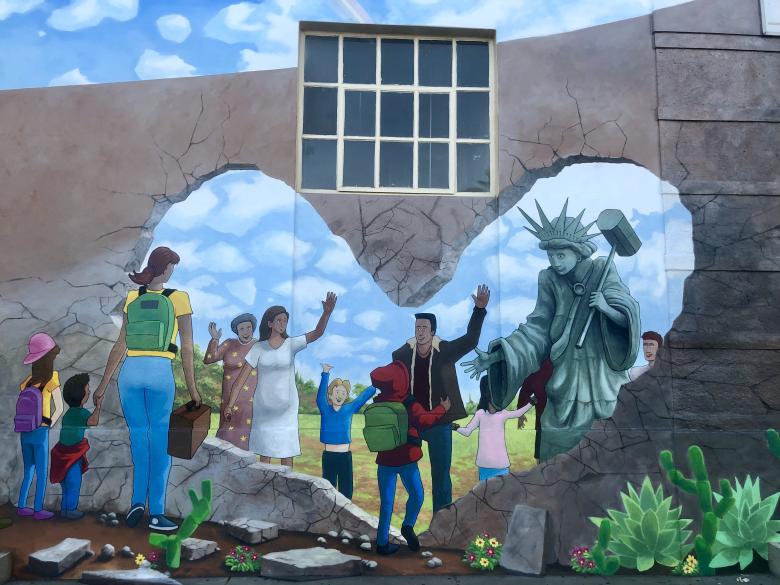 The mural "not only adds beautiful art to the community but also communicates such a powerful message," says Erin Rank, president and CEO of Habitat Greater Los Angeles, a member of the coalition working to revitalize the neighborhood. Residents selected the local artist to illustrate the message that everyone is welcome in their community. All were invited to help paint the mural on the outside of the middle school, and students, teachers, parents, residents, Habitat staff and community partners all picked up a paintbrush.
Moncks Corner, South Carolina
The residents of Moncks Corner, a bedroom community of Charleston, are becoming a tighter-knit community through several new projects. The community's Hope Impact Center now occupies the site of a once abandoned juke joint and is bringing together residents of all ages. The center, located in the Wall Street neighborhood, holds classes from coding to caregiving, financial management to computer literacy, while a community garden and food bank offer families more nutritious food options. The center is the result of a partnership among Grace R.E. Church, Habitat Berkeley County, the Wall Street Neighborhood Coalition and the Grace Development Impact Center. In the Mitton Lane neighborhood, new bathrooms at the ballfield will provide a more welcoming environment for community children and the hundreds of residents who turn out to cheer on the Moncks Corner Seahawks football team. "These bathrooms have been a dream for the community for more than three decades," says Alisha Simmons-Hobson, director of neighborhood revitalization for Habitat Berkeley County. "Having these bathrooms will get more children out playing."
Muncie, Indiana
The 8twelve Coalition — made up of residents, Greater Muncie Habitat, and some two dozen community groups and businesses — is making strides in revitalizing a once-thriving area hit hard by plant closures and the opioid crisis. Results include new and rehabbed homes, as well as the demolition of dilapidated ones, and community gardens sprouting vegetables and resident artwork. With 1 in 3 homes in the 8twelve's target area vacant, residents and coalition members have painted pieces of plywood to resemble window panes and boarded up abandoned homes to make them look occupied and to deter trespassers. The coalition is developing a plan for a largely vacant corridor that could include a health clinic and public market to replace the neighborhood grocery store that closed several years ago.
Philadelphia, Pennsylvania
More than 230 residents completed surveys to quantify their strengths and determine how most effectively to address the needs of their Sharswood neighborhood in northern Philadelphia. Working together, the neighborhood coalition, made up of renters, homeowners, businessowners, and private and public partners, aims to improve housing, health and safety, education and career outcomes. Success has been steady. More than 60 families have received critical home repairs partnering with Habitat Philadelphia and volunteers broke ground on Oxford Green, a new affordable housing development. Habitat Philly is working with a broad coalition of local partners to repair and maintain key neighborhood assets, including a local park and church.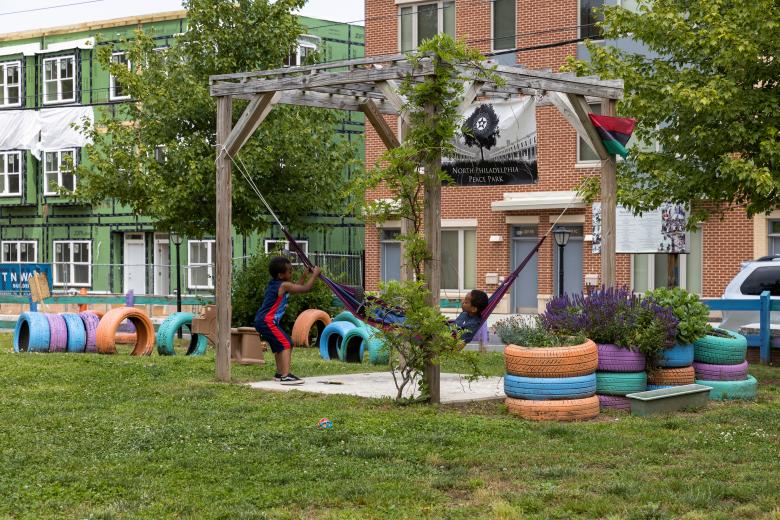 Over the past year, residents organized block cleanups, built planters for the senior center, painted community fences and successfully stopped illegal dumping on a heavily affected block in the neighborhood. Community members also are focusing on and investing in the less tangible: their futures. At Vaux High School, more than 120 students recently met with 60 local professionals for a session on career exploration and development in which they learned about pathways to success, reviewed their resumes and practiced job interviews. Adult leadership training, community health workshops and the creation of subcommittees within the neighborhood coalition have helped empower residents to use their interests to create deeper roots for themselves, stronger connections to their neighbors and an improved future for Sharswood.
Pittsburgh, Pennsylvania
In Pittsburgh's East End, the Larimer Consensus Group — consisting of stakeholders, residents and partners, including Habitat Greater Pittsburgh — has centered its neighborhood revitalization efforts around the goal of making Larimer "the greenest neighborhood in the city of Pittsburgh." The vacant and blighted properties that dot the neighborhood, once seen as a weakness, are now considered a strength — an opportunity to start anew, to build back stronger. In the vision plan drafted for Larimer, the consensus group aims to continue to turn underutilized lots into active and passive parks, urban farms and new housing. Toward this end, through the support and volunteer hours of residents, Habitat Pittsburgh continues to repair and weatherize existing homes in the neighborhood while transforming previously vacant overgrown lots into new energy-efficient, taxpaying homes. Other "greening" efforts include the planting of fruit trees across the neighborhood, the maintenance and expansion of the community's African Healing Garden, and the launch of a community-garden-grown farmers market to help boost health outcomes while also generating funds for Larimer Consensus Group's future projects.
Pittsfield, Massachusetts
Pittsfield has a proud history of industrial manufacturing that started with textile and paper mills and evolved to plastic and electronic manufacturing. But as plants shuttered over the last several decades, the city's economy has become more service-oriented, replacing full-time-with-benefits positions with part-time, or even seasonal, low-skill and low-wage ones. The path to revitalizing the city's Westside neighborhood must begin with reviving the economy and families' ability to care for themselves, says Carolyn Valli, executive director of Central Berkshire Habitat. Habitat's goal of boosting the local workforce is taking many forms, including establishing paid community navigator positions in which residents are compensated for their work leading the neighborhood coalition. A youth apprenticeship program launching in summer 2020 at the local career technical school will offer students the chance to gain experience in carpentry, electrical contracting and horticulture by completing community projects in those fields. Central Berkshire Habitat also created a construction workforce development program for adults. During the nearly yearlong training, recruits learn skills and earn trade licenses while participating in local Habitat builds and repair projects. "We're building up the next generation of construction leaders. We're helping them find and develop their skills while giving them an opportunity to get a job that can cover a mortgage of their own," says Valli. "And they're doing it all while making a difference in their own neighborhood, helping their own neighbors."
Portland, Oregon
The Cully neighborhood, with its 13,300 residents, is one of the most diverse in the state. Living Cully, a coalition dedicated to revitalizing the area, is working to keep the neighborhood's character — and residents — in place. The city of Portland has identified Cully as one of the most at risk for the displacement of lower-income residents due to gentrification. "Affordability is a huge issue, and there's been a lot of resident engagement and focus on anti-displacement," says Matina Kauffman, vice president of homeownership and neighborhood programs for Habitat Portland/Metro East, a Living Cully coalition partner. "People want to stay in the neighborhood long term and thrive. A big challenge to that is meeting the needs of the neighborhood in terms of housing." Residents also are focused on creating a more walkable and environmentally sustainable neighborhood. Additionally, discussions are underway to create a new funding mechanism for the neighborhood and to allow residents to determine how revenue is spent.