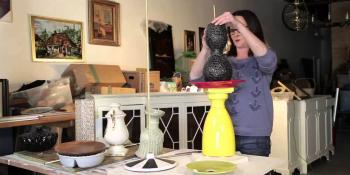 DIY decor ideas with finds from Habitat ReStore
"I look at things not for what they are, but what they could be."
This is how designer and bakery owner Bren Ische sums up why she likes do it yourself projects; it's also why she spends a lot of time at the Habitat for Humanity ReStore. In fact, she says she may be the "ReStore's biggest fan."
It's only natural, then, that Habitat ReStore was where she found many of the items she would transform into the unique decor for her new Amelie's bakery location in Atlanta, Ga. Fortunately, she filmed the process of transforming her ReStore finds, providing some great inspiration for your next DIY decorating project.
Watching the videos below, you'll see how Ische transformed plates, an old mantel and an "ugly" table into brand new creations like a one-of-a-kind lamp, a flat chandelier and a quirky table with a ceramic tile top.
Additionally, she explains how she finds inspiration in seemingly ordinary items when she shops at a Habitat ReStore.
Repurposing vintage finds into a one-of-a-kind lamp
"Anything you can drill a hole in, in my opinion, you can make a lamp out of."
In the first of three videos, Ische takes us along as she transforms old tins, vases and other housewares into a one-of-a-kind lamp. Stayed tuned for the end of the video, where she gives tips for simple transformations you can make on items you may already have around. Explaining her preferred décor, she says, "I think life can be serious enough, I love for my surroundings to be quirky and to be fun."
Transforming a mantel and an old table
See Ische transform an old mantel into an amazing, custom piece for her new bakery. For accents, she makes her own tile by cutting up other ceramic items she had available and putting the pieces back together like a puzzle.
Repurpose a vintage table top with ceramic tiles
At the end of the previous video, you saw an old table being transformed with a new top made of a variety of styles and sizes of ceramic tiles. Go a step further in this video to watch a step-by-step DIY guide of how she tiled the table, transforming an item she nearly passed by into a distinctive new piece that fits perfectly with her quirky decorating style.
Putting it all together
"There's beauty in just about everything. Keep things out of the landfill and repurpose!"
Finally, it's installation time! See how the items that were transformed in the previous videos were installed in Amelie's Bakery to become part of a great and very unique decor.