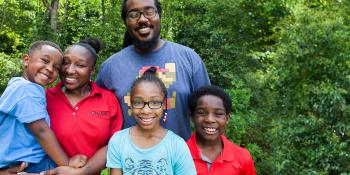 "One of the biggest steps I have ever taken"
I always knew I wanted a family. I didn't know it would happen so fast.
When I had my daughter and my sons, I didn't know how little old me was going to be able to take care of them. I always wanted to be the kind of dad they looked up to, the way I looked up to my father.
I feel like a great dad now. I have provided my kids with a great home. I see how happy they are in our home and able to go outside and play in the yard. The simplest things make them so happy. And that makes me happy.
The most important thing in my life is my family. My wife, Laquesha, and I went to high school together, and, at first, she didn't like me. Then we got to know each other. She is my backbone, my everything.
My daughter, Demetria, who is 10, is the light in my life. She is the most intelligent person I know. I argue with her just to see how good she is. I tell her she should be a lawyer or a judge. My 8-year-old son, Lamario, is a gift. He can sing and dance and draw. He wants to do everything, and I love that about him. He is going to be something great. Damauri, who is 4, is the reason I knew I had to have a home for the children. Every day, I see that baby boy getting bigger and bigger, and I keep pushing. He is my strength.
We had been living in a two-bedroom apartment. All three children shared a room. That gave them a good bond, but it also confined them. My daughter was getting older and needed her own space.
The apartment was in the middle of a rough area. At night, we would hear gunshots, fights, loud parties. The school was crowded, even the bus. The kids would come home and say, "I couldn't sit down today. "We didn't know how our kids would turn out because we didn't know what kind of friends they would be with or what kind of activity they would get involved in.
My daughter told me there was a girl at her school in the eighth grade who was pregnant. That blew my mind. My wife and I didn't know where we were headed. It seemed like all of that went away when we moved into our own home.
When I turn onto my street, most of the time I'm coming from work, maybe from a hard day. I see my house, and it just puts a smile on my face. All the children love their new school. The bus isn't crowded, and the teachers are nice. It is a fun place, but they are getting a good education. The neighborhood is quiet — no gunshots, no violence, no kids running around in the street. People care.
My daughter has asthma. There was a lot of dust that accumulated at the apartment. Since moving here, she hasn't used her asthma pump once. I don't even think she needs it anymore.
The thing I like most about our house is the space. I teach my children to be themselves. If you are on top of each other, you are not going to be able to experience who you really are. Space gives kids the opportunity to grow.
Since moving here, my 4-year-old has become more responsible. He loves his room and his things, and he takes care of them. When he shared a room with his brother and sister, he didn't really feel as if it was his. I see him owning his room, owning his toys and owning the responsibility of being part of a home.
My daughter does more around here than I do. She is just so responsible and is really stepping up.
My middle child is expressing himself more. I always thought he would be the one who was shy and timid and misunderstood. Having his own space has given him his own identity.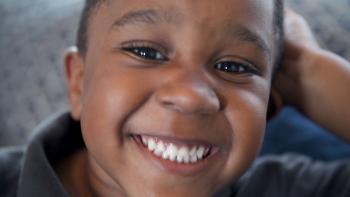 The house has taught us to be more together than ever before. There are the simple things, from doing the dishes to having family over to having a common love for the home. We can have our own space and all still be together in the living room. That gets me every time.
My wife was the one who told me about Habitat. It was one of the biggest steps I have ever taken. I grew up in a loving family, and my mom and dad had a home. They were probably the only one of their brothers and sisters who did. I always felt that a home was important. Kids are going to make their own decisions, but you want them to have a loving home they want to come home to.
My wife chose this lot. She brought me here, and it was nothing but trees. We would dream about this home being here. I picked the color. I always liked blue.
Probably the best part about being with Habitat is being able to put the hammer and nail into your own home.
We used to bring the kids around to see the progress. When they saw the foundation, the boards and the roof go up, they started to see that this really could happen. One of the biggest things that my wife and I did for them was to show them that it is possible to make a change in your life, to come out of a bad situation.
My father actually came and helped us build on the house. He is really good at carpentry, and he showed me certain measurements and kinds of saws. It was amazing. When I was growing up, my father always fixed things, and he tried to teach me to be hands-on. My dad had two or three jobs, and he worked so hard every day. I didn't know what that was like for him, but I knew he was great. He always fixed problems. From a broken chair to a light bill, he took care of it.
Now, Habitat has given me the opportunity to be my dad. He always told me, "Be better than me." I don't think I'm better, but I'm on the way to being just as good.
— Habitat homeowner Mario Fourney