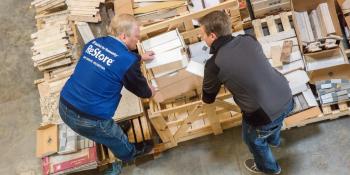 Exploring flooring options with Habitat ReStore
Many homeowners, at one point or another, are faced with the decision of which floor coverings to choose, either when building a new home or refurbishing an existing home. There are advantages to choosing traditional floor coverings like carpet and hardwood, but there are some great creative options available as well. Here are some things to consider when choosing what's right for your home.
1. Carpet
Though carpet has been around for many centuries, wall-to-wall carpeting became extremely prevalent in American homes after World War II. Carpet provides warmth and comfort and gives any room a relaxing and inviting feel. Carpet is also helpful for sound absorption and acting as a natural insulator. But eventually even the best maintained carpet must be replaced. Homeowners should consider ongoing care and replacement costs when choosing carpeting as a floor covering.
2. Wood, tile and other hard floor coverings
There are lots of pros to using wood, tile and other hard floor coverings. Using hard surface coverings can refresh the look of your home in more ways than one. Cleaning dirt and smells from these types of floors is an easy and low-cost option for maintenance. They also allow the creative use of area rugs when designing the look of a room.
3. Unique and creative floor coverings
Choosing new flooring does not always mean installing traditional flooring material. For instance, take a look at these DIY flooring ideas, where you'll find ideas for floors made of leather belts, wine corks and wooden barrels.
DIY tip #79
Instead of purchasing expensive cleaning products for your wood floors, make a mixture of 1/2 cup of white vinegar to a gallon of warm water.
Get our guide with over 150 household tips from Habitat supporters like you!
Shop or donate flooring at Habitat ReStore
Many Habitat for Humanity ReStores accept flooring donations, so used flooring options that may be available from Habitat ReStores can range from a new area rug to a completely new-to-you hardwood floor. Some Habitat ReStores even offer deconstruction services and may be able to remove flooring you'd like to donate.
Most flooring carried by Habitat ReStores either comes from donations of people who decided to change their flooring, corporate donations or from the deconstruction of an old building. With the options that Habitat ReStores offer, people who need to refurbish their home on a budget are able to do so with some trendy, desirable options. Many Habitat ReStores also carry a wide selection of area rugs people can choose to decorate their floors.
Many people use the wide selection of flooring at the Habitat ReStore to repair their damaged floors or to even change the look of their flooring because they want an updated feel. Some shoppers may change their flooring to a more fitting material to prevent future damage or to make clean up with small children or pets easier. Everyone is invited to feel the excitement of having something new underfoot.
Habitat ReStores accept donations of flooring, windows and paints to resell to people who need less expensive options to replace their flooring, update their kitchens or even repaint discolored walls. Of all these options, however, flooring is one of the most difficult items to salvage and replace, and most Habitat ReStores welcome flooring donations. Check with your nearest Habitat ReStore to see if they can accept the flooring you have available.
This post is from Floors & More buying group, a Habitat ReStore partner bringing flooring and home improvement into the 21st century. Our members enjoy best in class marketing services that gives them a clear advantage over their competition. Our huge selection including private label brands ensure our members offer unbeatable selection at prices no one else can touch. The Floors & More buying group is dedicated to supporting their members with the tools and training they need to offer their customers an unbeatable retail experience. Floors & More – the new name in flooring and more! See more at Floorsandmore.org and on Facebook.