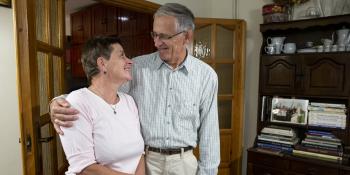 The row houses with the blooming flower boxes and lace curtains stand out for what they stand for. These are the first homes built by Habitat for Humanity Poland, founded in 1992 here in Gliwice, in the southern part of the country. They are a testament to the many lives that have been transformed since — and the promise of the many more changes to come.
The house at the end of the first row, the one proudly bearing the country's red and white flag, belongs to Jerzy and Alicja, the first family to take what they call a leap of faith with Habitat Poland. "We wanted to take part in it. We were also worried how it might end," says Jerzy, an affable, soft-spoken man. "But we trusted in the Lord, and we decided to give it a try."
Because they did, they, their children and their grandchildren are reaping the rewards that come with a stable, affordable home. When Jerzy and Alicja took that leap, they were struggling to survive on his salary as an assistant professor of engineering. Alicja, who also has a degree in engineering, was staying home to care for their five children. At the time, the family lived in a tiny place, and the youngest child had to sleep with his parents.
After partnering with Habitat Poland, Jerzy and Alicja no longer stressed about where they would be living, allowing Jerzy to focus on his career and advance to full professor. Because the children now had a place of their own to study and a neighborhood in which they could romp and play hide-and-seek, they excelled in school, and all graduated with college degrees — four in the sciences and one outlier in dance. All but one is married with families of their own in homes of their own; all are living happy, productive lives.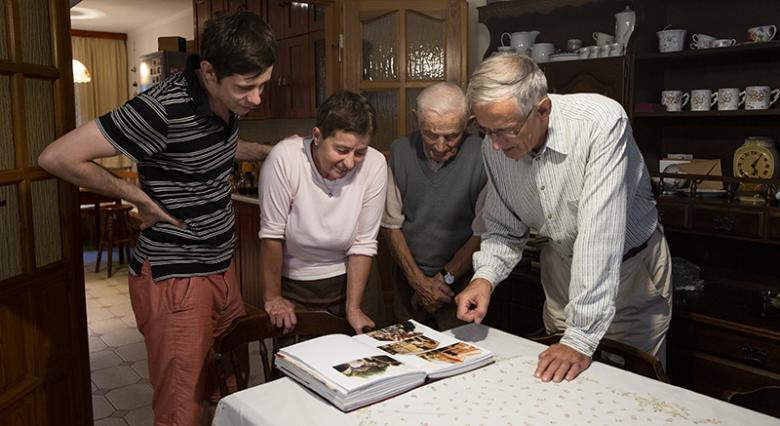 Still, Jerzy and Alicja's house is far from empty. On Sundays, Jerzy's father and all the children, their spouses and children descend as four generations gather for dinner. The house is the frequent host of baptism, birthday and anniversary celebrations. There's always a grandchild to babysit.
Jerzy and Alicja cross their fingers for even more grandchildren and, God willing, some great-grandchildren someday. But they take stock of their blessings to date, blessings they attribute to that leap of faith with Habitat. "What I have lived through is a kind of a joy," Jerzy says. "Thanks to Habitat, I can say that my life is happy."
A great adventure
Back at the row house with its Polish flag waving, Alicja is cooking dinner. Stanislaw, a mechanical engineer, returns home from work. He is the youngest child and the last one still living at home. He's not in a huge hurry to move out, and his parents aren't pushing him. "I like this house," he says. "It is a very, very good place to live. It was a very, very good place to grow up."
Not long after, another son drops by. As does Jerzy's dad. Alicja takes a break from the stove, and they all flip through a scrapbook of photos documenting the family's journey with Habitat. "The years fly fast," Jerzy says, looking at the younger versions of him and the others. "It's hard to believe it has been more than 20 years."
At first, the family was all alone here. Then there were just a few families — musicians, artists, educators. Today, there are 69 families living in this Habitat development. Jerzy paid off the mortgage in 15 years, five ahead of schedule, so that Habitat Poland could have more money to build other homes and other families could know the happiness that he has. Over the years, Jerzy also sought to repay Habitat by volunteering his time in different leadership roles.
What makes Jerzy most happy, he says, is how close his family grew because of the house. "We were very close, and we still are," Stanislaw offers. "That is something special about this family."
These days, Jerzy is contemplating retirement to spend more time with Alicja in their garden, where they grow hydrangeas and raspberries that the grandchildren devour. But the scrapbook has him looking backward. "Habitat, for me, is a great adventure that took place in my life."