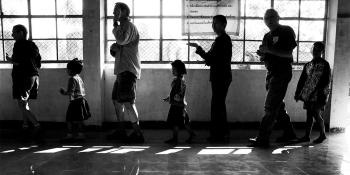 Habitat advocate and volunteer shares her personal journey
Sarah Bond-Yancey, volunteer and staffer, shares the incredible life-changing results of her involvement with Habitat.
Sarah Bond-Yancey has built with Habitat in Thailand, New Zealand and Indonesia and served as a Habitat youth advocacy delegate at Habitat on the Hill.
I stood in front of 24 shivering volunteers, all tugging at the concrete-spattered edges of their T-shirts. A wavering blue tarp was the only thing separating us from the mountain mist.
"Today I want to talk to you about purpose — about why we're here. Not the résumé reasons, the real reasons," I began.
At age 26, I was building homes in rural Indonesia as one of Habitat for Humanity's youngest certified Global Village team leaders. After just four days in the tiny Balinese village of Goblek, we had already grown close to the local indigenous workers and village children. Our morning meetings, meant to create a space for volunteers to reflect on their experiences, now attracted small crowds.
"This build is very special for me," I continued, "because today — August 2, 2014 — is the five year anniversary of my last suicide attempt."
The quiet came in waves. My volunteers hesitated, the translator whispered, and then the community fell silent. Only the clucking of hens persisted as I explained: As a child, I was intensely compassionate. By second grade, my career aspirations included running nonprofits and solving world hunger. By the end of high school, however, my passion was overtaken by severe, debilitating depression.
I received a scholarship to attend Washington State University but, failing to acknowledge the implications of being an "at-risk" first generation college student with an emotional developmental disorder, I completed only two courses over six terms.
A tattered sailboat in the overwhelming sea of higher education, I could feel myself filling with water, repeatedly sinking, but too afraid to look for holes. At 21, I attempted suicide.
"That's the real reason I'm here," I told my group, "Because helping to empower those without opportunity — that is the only thing I have ever found that is worth living for, which empowers me to overcome my own obstacles."
I challenged my team to consider how much Global Village builds not only benefit the communities, but the volunteers as well. Volunteering with Global Village doesn't mean helping a family build a house.
Volunteering with Global Village means empowering families and their communities to overcome seemingly insurmountable global obstacles.
It means creating lasting partnerships that shatter prejudice and heal intercultural divisions. And it also means stepping outside of your own set of often all-consuming personal issues and refocusing on what is truly important in life: family, community, shared humanity.
Volunteering with Habitat both empowers communities and centers volunteers. The impact is both immediate and lasting.
My Habitat journey started only a year prior to that misty morning talk in Goblek, with a Global Village build in Udon Thani, Thailand. That first build changed my life so profoundly that within one year, I went from dreading my past and future simultaneously to pouring all of my energy into refocusing my life on my original passions: serving others and solving global challenges.
I had already given my time and money to volunteering, but I felt called to do more. I wanted my heart and mind to be in it permanently. So I changed my bachelor's emphasis at The Evergreen State College to community-based development, and my long-term academic goal to a master's in community and regional planning with an emphasis in community-driven housing solutions.
Just a month after making this change, my brand new career was put on the fast track by the organization that inspired it. I received a student scholarship to attend Habitat on the Hill 2014 in Washington, D.C., as a youth advocacy delegate.
Over the course of the conference, I spoke with incredible people I would have normally considered well above my level of influence. These rapidly made connections, some through passionate discourse on housing advocacy over morning tea, led to an internship and inspired my senior thesis.
As I write this, I am getting ready to leave for New Zealand. A key part of my yearlong senior project ("Designing Sovereignty: Indigenous Housing, Community Health and Traditional Space Use") will be working with Habitat New Zealand on their premier advocacy and fundraising event, the Auckland Big Build.
In addition to building a home with a wonderful Niuean family in only three weeks, the Big Build will raise critical awareness about the desperate housing situation in New Zealand and how Habitat is empowering communities to challenge and address the crisis. I am honored to take part in this event as a volunteer, an advocate and a housing solutions researcher. My partnership with Habitat New Zealand is a perfect example of how Habitat allows us to give and gain in the same motion.
The last day of our build in Goblek, my co-leader Stan Duda read a quote by Lilla Watson, a Gangulu (indigenous Australian) woman: "If you have come here to help me, you are wasting your time. But if you have come because your liberation is bound up with mine, then let us work together."
That is why Habitat is so successful. It recognizes that all human liberation and well-being is bound up together. Families beside volunteers and advocates beside donors. It fosters the critical partnership between those who need allies and those who need greater purpose, greater depth.
I have discovered that the more I share my story, the greater my potential to change someone else's life and the more I am affirmed that my life is worth living. That realization is what drove me to become a housing advocate, to share my story and to challenge my volunteers to do the same.
Habitat will help you find what you need, but once you find it, you have the responsibility to share that experience. You never know who your ripples will reach, who your testimony will uplift or who your passion will empower.
Subscribe to our monthly newsletter
Get the latest Habitat news, volunteer opportunities, DIY tips and more ways to get involved.