Habitat AmeriCorps profile: Diana Youssef
Helping neighborhoods come together and build on their strengths is Diana Youssef's passion, which is why she says her job with Habitat for Humanity Newark in New Jersey is perfect for her. As a Habitat AmeriCorps member, Youssef works with Habitat Newark's efforts to revitalize neighborhoods.
Those efforts include repairing homes needing some TLC. It also involves getting residents to take charge of the change they want to see in their neighborhood. That's the part Youssef especially loves. "I want to be able to help my community enhance their quality of life," she says.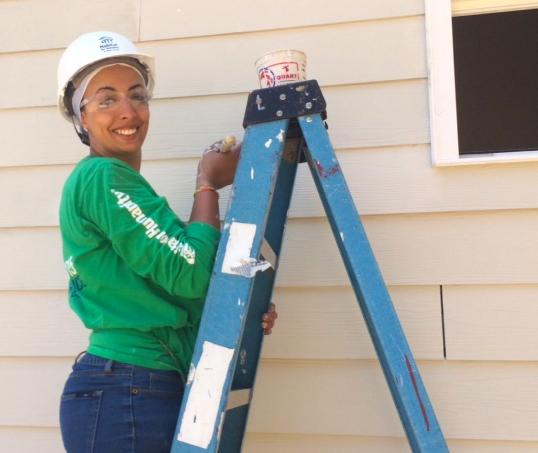 Born and raised in the New York City borough of Queens, Youssef interned with the United Nations before applying for the neighborhood revitalization position. "I was really diligent about finding a job working in community development," she says.
Initially, Youssef got a little push back from skeptical residents in the neighborhood. "There was this idea, 'We have seen this before,'" she says.
To earn the residents' trust, Youssef has looked for small but tangible ways to show that Habitat is going to be a partner for the long haul.
She and a group of residents recently took a survey of the street lights that needed to be fixed or replaced and reported their findings to the local utility. Most of the lights on the list now work. "That, in part, gave residents hope that change is possible," she says. "They also saw that if they take action, they can make the neighborhood better for everyone."
Additionally, Youssef has helped organize, in collaboration with other community partners, a college fair, a resume-writing workshop and a summer youth camp. At monthly community meetings, residents have talked about their concerns over safety. Now speed bumps will be installed near an elementary school.
"It's been amazing doing what I love to do and following my passion."
— Diana Youssef, Habitat AmeriCorps member
During her year of service, Youssef headed south to North Carolina to participate in Habitat's 2016 AmeriCorps Build-a-Thon, where she helped future Habitat homeowners build their new home. "It was worth every minute, and every muscle in my body ached," she laughs. "It also solidified my convictions for what I am doing. This is why I am going to continue working with Habitat and serving my community."
Habitat Newark has offered Youssef a full-time job to continue the work she has accomplished as a Habitat AmeriCorps member. "And it's exactly what I want to be doing," she says. "It's been amazing doing what I love to do and following my passion."
You can learn more about Habitat AmeriCorps and apply today!