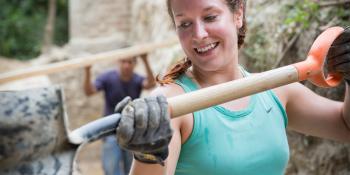 Habitat for Humanity volunteer opportunities
Learn more about the different ways to get involved with Habitat and the benefits of each opportunity.
This year, more than 2 million people around the world will volunteer with Habitat for Humanity. Our volunteers always make a positive difference in the communities we serve — and they also often get unexpected benefits in return.
Meeting new people on the build site and making lifelong friendships is one. Another is that volunteers who travel with Habitat get to visit new places and experience other cultures. Some volunteers even report that helping Habitat is great exercise!
No matter what your reasons are for getting involved, we hope you'll consider joining us for a volunteer adventure soon. Let these ideas inspire you:
Local volunteers
One of the best ways to get involved is to help Habitat in your community. We have 1,500 local affiliates in the United States and national organizations in 70 countries around the world. In every location, Habitat relies on volunteers to help build homes. We also need volunteers to serve as board members or on committees or to help provide lunches, and don't forget all the volunteer opportunities available through Habitat's ReStores.
Global volunteers
See the world with Habitat on a Global Village trip. Volunteer adventurers take part in helping to build homes and hope and also experience local cultural activities during their breaks from the build site. Travel options are available to locations around the world in durations of one to two weeks.
Youth volunteers
Youth lend an amazing energy and enthusiasm to our mission of bringing people together to build homes, communities and hope. That's why Habitat offers young volunteers an array of ways to get involved. Among the most popular are our year-round school break volunteer opportunities called Collegiate Challenge trips. Students age 16 and up travel to hundreds of locations across the U.S. to build.
More ways to volunteer
There are so many more ways to get involved. Sign up for a Women Build event, serve as an AmeriCorps member, or spend several months with us at our headquarters in Americus, Georgia.
No matter which volunteer opportunity you choose, know that you will make the difference of a lifetime — yours and someone else's. We thank each and every one of you for the impact you have in our work around the world!