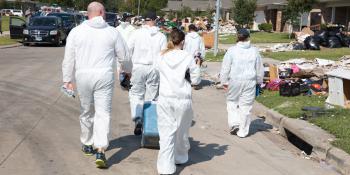 Habitat Hammers Back with long-term hurricane recovery plan
by Jonathan Reckford, Habitat for Humanity International CEO
As I spent time in Houston working alongside families as they began the long road to recovery, I was struck with a painful reminder: The devastation wrought by hurricanes Harvey, Irma and Maria is as acute as it is expansive.
One family's pain of assembling a jumble of flood-ruined stuffed animals and photo albums on their living room floor is overwhelming. The thought of tens of thousands of other families in the path of Harvey, Irma and Maria going through that same exercise is hard to fathom.
The winds and rainfall have made hurricanes Harvey, Irma and Maria disasters of unprecedented scale. But the true hallmark of these storms is as a housing disaster of nearly unparalleled scale, with hundreds of thousands of houses destroyed or damaged. That affects lower-income people the most, as demand for intact housing has spiked, leading to higher and higher prices.
Just as we have done before, Habitat for Humanity is answering the call to help families get back on their feet. Recovery from these hurricanes will be measured in months and years, not days and weeks. We've built our Habitat Hammers Back initiative with that in mind. As vital services are restored and first responders stand down, Habitat is ramping up its response.
Habitat has a lot of experience helping communities build back after disasters. Since 1997, we have helped more than 230,000 families in 52 countries following disasters including Superstorm Sandy, tornadoes through the South and Midwest, earthquakes in Haiti and Nepal and typhoons in the Philippines. In the 12 years since Katrina, Habitat prepared more than 2,500 homes for rehabilitation and has built more than 6,000 new affordable homes along the U.S. Gulf Coast.
Below, I detail the three phases of the Habitat Hammers Back recovery initiative. But first, let's answer the question I am getting most often in the weeks after Harvey, Irma and Maria:
How can I help?
Donate: Our response will only be constrained by the amount of funding that we are able to raise. We'll keep working as long as the need is unmet and funds are available. Recent studies show that the lion's share of disaster response funding goes to emergency relief, leaving as little as 5 to 10 percent of the money for reconstruction and recovery. The emergency relief work is important, but with more than 100,000 homes damaged or destroyed by Harvey, Irma and Maria, we need resources to help families who have lost so much through this long-term recovery.
Volunteer: In the immediate aftermath of the hurricanes, it is important to give first responders and trained disaster responders the space and resources they need for their work. But as we move into the long-term rebuilding phase, we'll be counting on volunteers to help, just as they have so many times before.
The Habitat Hammers Back action plan has three phases:
Phase 1: Immediate response
In the days and weeks immediately following the hurricanes, Habitat teams have been hard at work with the immediate response effort. We've deployed our Mobile Response Units and teams of our Disaster Corps volunteers to hurricane-affected areas in Texas and Florida to help increase the capacity of local Habitat organizations. Our teams have been focused on the following tasks:
Conducting rapid assessments of damage to housing in hurricane-affected regions and collecting data to prioritize repair;

Removing debris and performing emergency repairs in affected homes;

Working with our local Habitat organizations to assess their capacity for long-term recovery work; and

Coordinating with other responders including long-term recovery groups and the National Voluntary Organizations Active in Disaster.
Communication with Puerto Rico has been difficult so far, but we know the level of destruction has been devastating. With an island-wide power outage that is predicted to last for months, information may continue to be slow to come in for some time. We are looking at options to send an assessment team as soon as transportation and circumstances allow. Construction and long-term delivery plans will be determined after our evaluations.
Phase 2: Community stabilization
As we move out of the immediate emergency response, we turn our focus to helping families understand the recovery process and access resources to expedite repairs. In Phase 2, Habitat:
Provides guidance to affected families on insurance claims and applications for emergency government assistance;

Determines gaps in necessary funding for house repairs and construction;

Disburses funds to local Habitat organizations to support repair and rebuilding; and

Designs long-term rebuilding plans.
Phase 3: Long-term recovery
In the final phase, our goal is to bring to scale our repair and reconstruction plans. This phase will be the longest and most expensive, as we work through our local Habitat organizations to:
Rehabilitate and repair damaged houses, with a focus on resilience to help homes withstand future disasters;

Construct new affordable housing, to help alleviate intensified economic pressures that have driven up the cost of housing;

Mobilize volunteers from around the country to assist; and

Engage in collaborative partnerships with other recovery organizations, providing technical assistance and working in concert to renew communities.
Families affected by the hurricanes are counting on all of us. Please join us in offering our prayers for them. Habitat is committed to this recovery for the long haul. We'll need your help to meet this commitment. Learn more and find out how you can help.