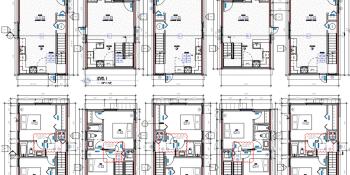 Habitat House Design Contest: Building a solid foundation
By design, Habitat for Humanity homes provide a strong foundation for families to flourish.
That foundation begins with homes that are affordable, durable, healthy and easy to maintain for years to come. Habitat house plans are often uniquely crafted to meet the needs of individual communities, with local Habitats across the U.S. building homes inspired by local styles, climate and materials.
During our inaugural Habitat House Design Contest in 2020, generously sponsored by Simpson Strong-Tie, more than 100 Habitat affiliates submitted their plans for sustainable, resilient homes to help families in their communities thrive.
See which Habitat designs were selected as the best in affordable home design and construction: