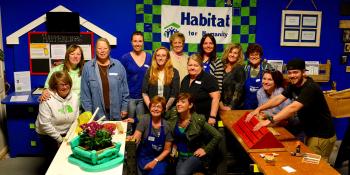 Habitat ReStore DIY workshops: An inside look
Habitat ReStore workshops are a fun way to gain DIY skills and meet new friends.
Many Habitat ReStore home improvement centers offer do-it-yourself (DIY) workshops to teach shoppers and donors how to makeover, repurpose and put their own personal touch on items they find at the ReStore.
So I was inspired to create a DIY workshop at the Habitat for Humanity of Bucks County ReStore where a group of DIYers could get together and upcycle wood items from the store into new creations for their homes. The workshop was inspired by my own recent project where I transformed a wooden chair I found at the Habitat ReStore into a unique planter.
Another favorite part of a DIY workshop at a ReStore: the questions that upcycling aficionados ask are both challenging and interesting. I discover new ways of solving challenges just from exploring solutions and sharing my experiences.
I look at these DIY workshops as a new kind of 'sewing circle.' We're sharing ideas, skills, and stories as we create from our imaginations. And while we don't know each other at the start of the workshop, we have a unique kind of bond at the end that happens naturally through a supportive creative process. There is no better way to be inspired and learn new ways of DIYing than working side-by-side with other creative DIYers. And it ends up being a tight-knit group by the end, too.
I usually try to stay within 10 to 20 people for the workshops, depending on the project and the number of people helping. It seems like a ratio of around 5-to-1 attendees to helpers is the best for projects like this; that way everyone gets time with the tools, space to work and time for help.
Here's an inside look at a few of the projects we took on at this DIY Habitat ReStore workshop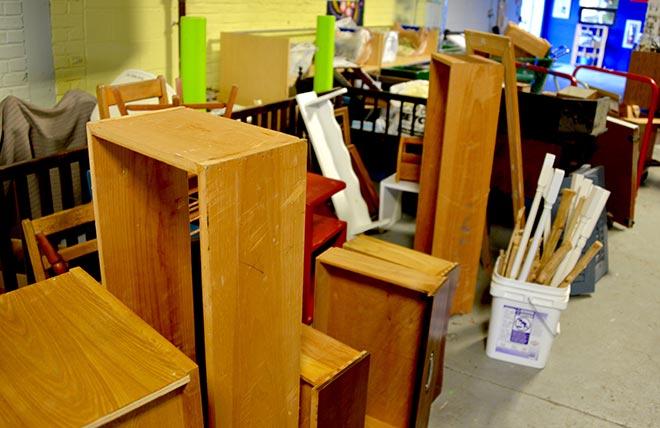 Speaking of sanding, not every sanding job is done by power tool. Cheryl is using sandpaper to prep her wood item for a new coat of paint.
One of my favorite parts of a workshop is talking with each person about the idea. Amanda created a collection of distressed planters by layering spray paint and using sandpaper strategically.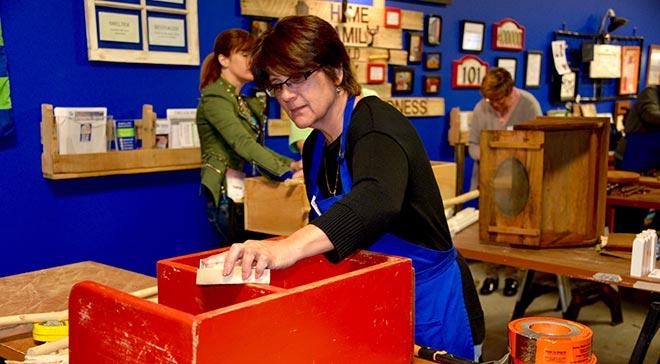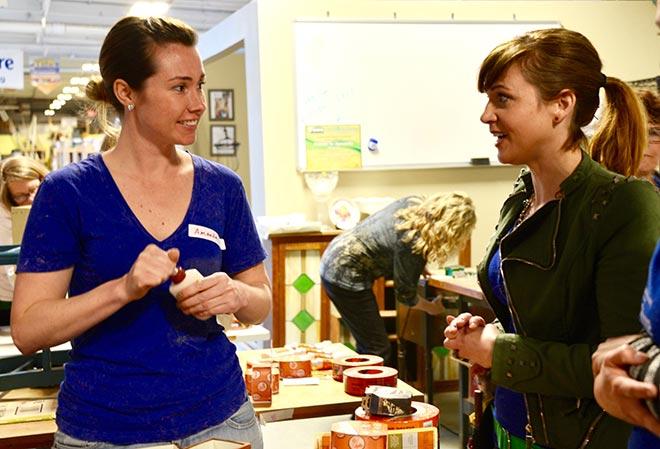 Martha wanted to create a shelf using a box as a base and branches to give it a rustic look. After cutting the branches to size, she used glue to attach the branches.
Susan selected the high chair to repurpose. A bold little green gem, she wanted to alter the chair and create a 'beachy' look with hand painting and embellishments. One of the ReStore volunteers, Peg, helped Susan deconstruct the chair.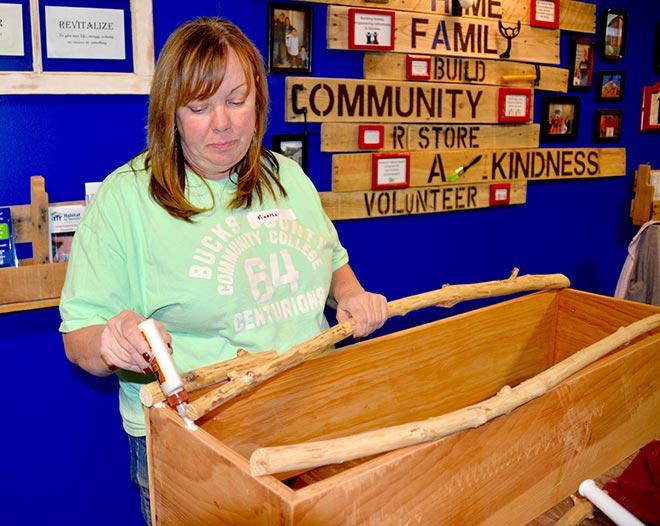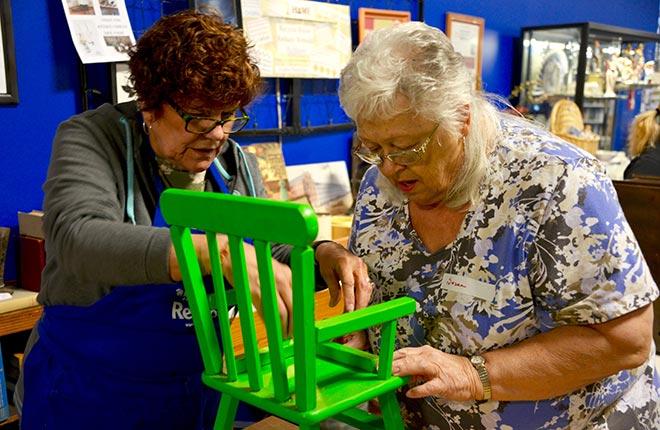 Marlina is painting what is almost a corner shelf for her home, as her husband watches.
Habitat ReStore workshops are more than just paint and sandpaper. I like to encourage everyone to take a turn using power tools. Lori is using a tabletop saw to trim a piece for her upcycle project.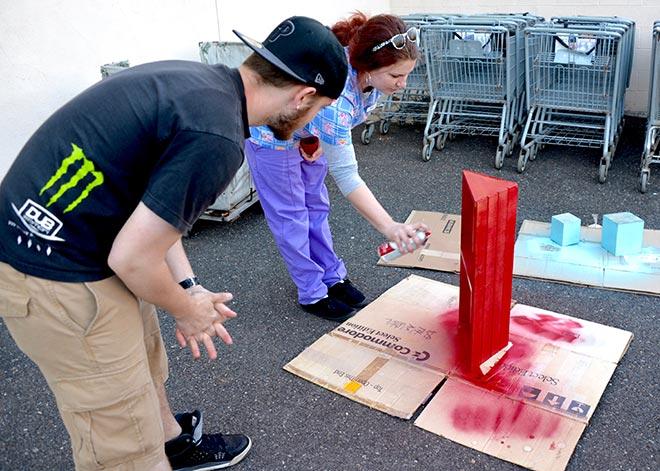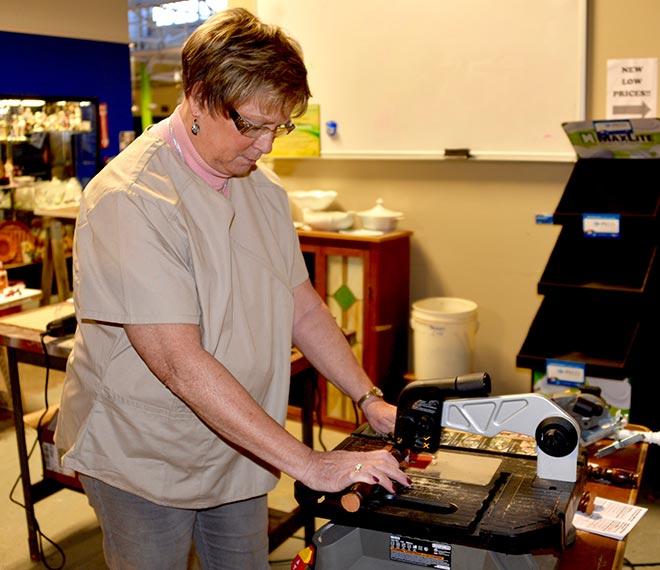 All of the DIYers and volunteers made this evening at the Habitat ReStore more like a fun-shop than a workshop. Thanks to all of you, I'm inspired and a better repurposer because of you.
Yes, I jump for joy when I'm at a Habitat for Humanity ReStore. It's like a giant 'playground of inspiration' for DIYers like me.
Dana selected an old sewing table to repurpose, and as part of her DIY plan she needed to sand the finished surface. I showed her how to use this oscillating tool. It's a perfect DIY tool, as it comes with different attachments to cut and sand.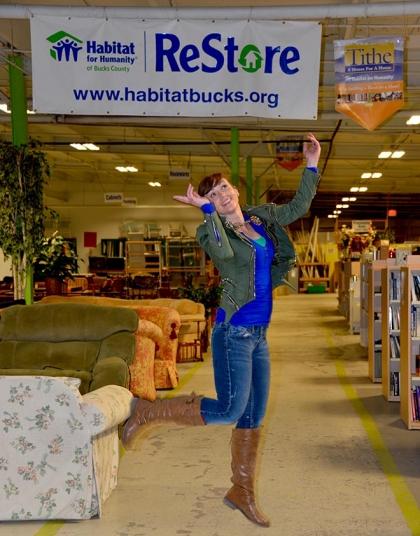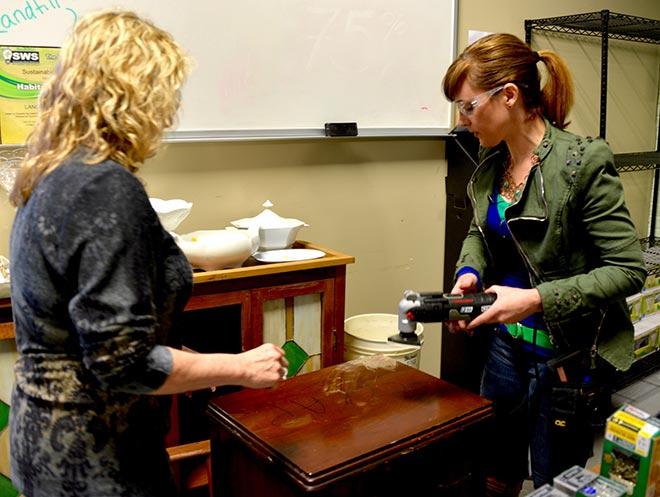 Theresa co-hosts the MyFixitUpLife talk show with her husband Mark, who is her partner at work and at home. She is the designer for Food Network's 'Save My Bakery,' and designed for Extreme Makeover: Home Edition. She is a licensed contractor, certified color consultant, and certified aging-in-place specialist with a focus on Alzheimer's. She is an author of Do-It-Yourself Home Improvement, DIY Quick Fix, and Complete Guide to Shelves & Built-Ins.