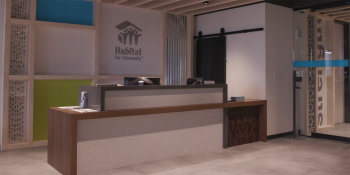 Habitat's approach to resuming operations and programs
Throughout the COVID-19 pandemic, Habitat for Humanity has prioritized the health and safety of the people in the communities we serve, as well as those staff, volunteers and partners who carry out our mission.
Our guidance to the members of our federated network throughout this pandemic has been consistent with public health recommendations and government directives to help flatten the curve. In the U.S., the federal government has now delegated decision-making regarding reopenings to state and local authorities, and we have provided guidance to local Habitat organizations about how they should consider restarting their operations.
We are eager for Habitat to fully resume our operations, not least because of the enormous housing need we face. The shortage of safe, decent and affordable housing was already at crisis levels prior to the pandemic. In the U.S., more than 18 million families were already paying half or more of their income on housing. Now, with tens of millions of people filing for unemployment, the situation is far worse. The COVID-19 pandemic is not only a public health crisis — it is a housing crisis.
Decisions to resume operations at Habitat affiliates will vary greatly based on the status of the pandemic in the communities we serve, directives from state and local governments, and the capacity of the affiliates to modify their operations in a way that prioritizes safety. We expect that full resumption of operations will be a phased approach that will take place over a period of months, not days or weeks.
Habitat for Humanity International has developed detailed guidance to assist its offices and affiliated entities in their decisions and plans for resumption of operations and programs, including construction activity, Habitat ReStore operations and offices. Throughout this process, we are asking for a posture of maximum flexibility to adapt to changing circumstances in communities and within local operations.
If you have questions about Habitat's work in your community, please contact your local affiliate.