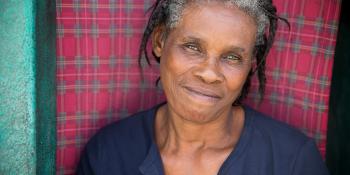 Haiti: We have come so far
Marie Gemma Donai is one of more than 50,000 families served through Habitat for Humanity's disaster recovery work in Haiti since the devastating 2010 earthquake left more than 1.5 million people homeless.
"Every day when I wake up, I raise my hands to thank God," Donai says.
The widow lives with her four children and one grandchild in Simon-Pelé, a densely populated informal settlement of more than 30,000 people near the airport in Port-au-Prince. The earthquake left deep fissures in the family's home, which they had neither the resources nor the expertise to repair.
The house appeared livable, Donai says, but damage assessments done by Habitat uncovered serious structural weaknesses that made collapse inevitable. With funding from the World Bank, Habitat Haiti replaced all the cracked blocks in the walls, added wooden roof beams and then covered the roof with tiles to protect the family better in the rainy season. A cement floor also was added, making the home safer and healthier, and the whole house was painted.
Once their home was repaired and retrofitted for future disasters, the family was able to focus on improving their livelihoods. Three of Donai's four children now use their improved house as their business headquarters.
"I don't know where we would go if we didn't live in this house," Donai says. "I am happy that we are all safe."
Habitat has worked in Haiti for three decades, but the sheer scope of the 2010 earthquake compelled leaders to shift more toward a community development approach. Partnering with like-minded organizations, Habitat increased its impact exponentially, as it focused on training thousands of people and partnering with local leaders and families to make community-wide improvements.
Soon after the earthquake, Habitat set a goal to serve 50,000 families over a five-year period. In 2013, Habitat met this goal, two years earlier than planned. Among the accomplishments:
24,600 emergency shelter kits assembled and distributed
12,000 house damage assessments conducted
1,500 upgradeable shelters and 3,500 transitional shelters built
683 homes repaired, rehabilitated or retrofitted Access to clean water for 2,000 people in Léogâne
2,100 short-term job opportunities created
6,600 people trained in construction techniques, financial literacy, damage assessments, disaster risk reduction, business development, and health and hygiene
300 permanent core homes built
Habitat also helped to create the Haiti Property Law Working Group, a consortium of experts rewriting laws to resolve long-standing land issues and open up the possibility of homeownership for generations of Haitians to come.
Since 2013, Habitat has continued to serve thousands of families still struggling to rebuild their lives by focusing its efforts on long-term community development, house reconstruction and retrofits, training, and capacity building in Simon-Pelé.
Today, Habitat is pursuing new opportunities to assist about 30,000 families living in a region called Canaan on the outskirts of Port-au-Prince. This area is rapidly developing into a city, but without the benefit of a formal urban development plan, technical assistance or joint decision-making with local authorities.
"As an expert in community development, Habitat could play a critical role in making sure that the same vulnerabilities are not repeated, putting people at risk in the next disaster," says Claude Jeudy, national director of Habitat Haiti.
"Since the earthquake, we have made significant progress," he adds. "But the work is far from over. "I do have hope," he says, "because we have come so far."
Subscribe to our monthly newsletter
Get the latest Habitat news, volunteer opportunities, DIY tips and more ways to get involved.