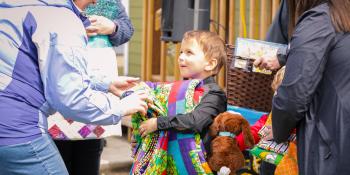 Handmade quilts give a warm welcome to Habitat homeowners
Thanks to the generosity of quiltmakers who donate their handmade blankets, Habitat homeowners know they are seen, sustained and wrapped in love.
One quilt, set aside for a young boy, is covered in the colorful bandanas and playful poses of the Teenage Mutant Ninja Turtles. Another, for a mother, is adorned with watercolor, paisley and floral fabrics in every tone of purple imaginable.
Each work of art is neatly tied with ribbon with a corresponding name tag — one for each resident of the 33 new Habitat homes going up in Lacey, Washington, a suburb of Olympia.
For months, the Quiltmakers of Olympia have poured their time and their hearts into the patient piecing together of fabric into intricate blocks, sewing the blocks into plush quilt tops, and combining the tops with middle and bottom layers, all to create these beautiful quilts, each a housewarming gift for their newest neighbors.
The quilters are leaning into their existing talents to support Habitat's mission by donating their skill, their scraps and their spare time to spread a little more love and a little more comfort to the families around them.
"You don't necessarily have to swing a hammer to help Habitat families," says Shawna Dutton, marketing and development manager of Habitat South Puget Sound. "You can show somebody support in so many different ways, using whatever talents you have, wherever you are, to help."
In Santa Rosa, California, Habitat Sonoma County, responding to a growing interest from the community, started the Welcome Home Quilters for some of its volunteers. The group, which meets monthly, creates a quilt for every child in every Habitat home and a larger quilt for each family. Once a year, they also create what they have termed an "Opportunity Quilt." It is raffled off, and ticket sales fund their quilts for the rest of the year, creating a self-sustaining model.
In Saginaw, Michigan, Jane Werner and Linda Grindahl saw the potential for turning their hobby into a tool for changing lives. The two tapped into the interest and skill of their entire town to throw a community quilt show. Now in its 17th year, the show — which brings in donated quilts from Michigan, Ohio, Illinois and other states — has raised more than $175,000 for Saginaw-Shiawassee Habitat.
In Greenville, South Carolina, the women of the Nimble Thimbles Quilting Guild have spent thousands of hours over the past decade quilting more than 275 works of art for Habitat families, including several Quilts of Valor, an honor reserved for veterans of the U.S. armed forces.
Collectively, recipients of the quilts feel the impacts of these gifts, figuratively and literally. "When you talk about quilts creating that feeling of warmth and home, that is something that these artists give to every one of our family members," says Jennifer Faner, director of homeowner and community engagement at Habitat Greenville County.
At her house dedication in March 2018, new homeowner Shan of Chattanooga, Tennessee, felt acceptance as she was enveloped in her own quilt from the Chattanooga Modern Quilt Guild.
Although she had put in hundreds of hours of sweat equity into the construction of her home and her neighbors' homes around her, it wasn't until that labor of love made by a dozen caring hands was placed in her own that Shan finally felt like she was home.
"I've never experienced so much joy and excitement from something that to others might seem so simple," Shan said. "But to me at that very moment, that quilt meant the world."