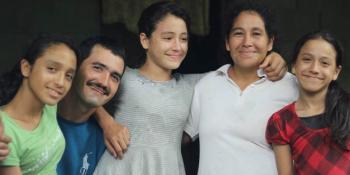 Hard work builds homes in Guatemala
In November, Habitat Guatemala marked a major milestone: the dedication of its 75,000th house.
Hember Meija is just one of those 75,000 homeowners who have achieved their dream of adequate housing. Meija and his wife, Ana Cuellar, see each day as a new opportunity to improve their children's quality of life.
Early each morning, Hember and Ana go to the city market in Izabal, Guatemala, to set up their shoeshine box. All of their years of hard work paid off, they say, when they were able to build their Habitat home.
Now, their three daughters have security and a place where they can study, play and rest. "I feel proud of my parents," says Ana. "They have taught us to work hard and to achieve our dreams."
Founded in 1979, Habitat Guatemala was the first Habitat organization in the Latin and Caribbean region.
Subscribe to our monthly newsletter
Get the latest Habitat news, volunteer opportunities, DIY tips and more ways to get involved.