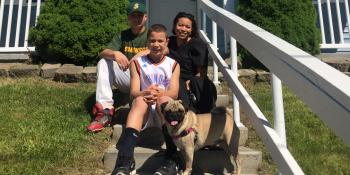 Healthy homes make for healthy families
"It's absolutely a healthier environment," Mandy says about the home she built with Habitat Capital District.
She had been living in a basement apartment with mold issues, an unhealthy environment for her and her two sons, 13-year-old Tyler and 15-year-old Kenny, all of whom have asthma.
But breathing easier isn't the only improvement to her family's health that she has noticed.
"I feel like people don't focus on mental health when they think of the word 'health,'" she says.
Before moving into the home, the boys had to share a room. They didn't have their own spaces. They lived "on top of each other," she says.
Mandy decided to give up her room to try to give the boys more room. "I had been sleeping on a reclining chair in my living room for at least a year," she says. "I wanted to give the boys the space they needed."
"You feel better when you have something to work for, something that gives you a sense of even more self-worth."
— Mandy, Habitat homeowner
Now, the boys have their own rooms, places where they can be on their own, sleep, decorate as they like and give each other the space they need. Mandy has her own space in her home and has noticed changes for herself, as well.
"I've been healthier since moving in here," she says. "I've wanted to go out and do more things. You feel better when you have something to work for, something that gives you a sense of even more self-worth."
But it's the change in her boys that she values most. "When we moved, it was such a change in how they felt about themselves, their self-esteem and also how they interacted with each other," she says. "They, overall, say to me 'I'm happy,' which means they're feeling healthy, they're feeling happy."