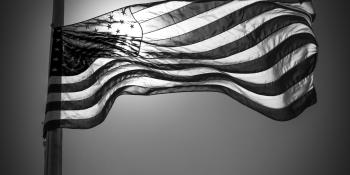 Historic housing discrimination in the U.S.
Although systemic racism existed in America for hundreds of years before the 20th century, the policies of the past 100 years have been incredibly destructive to people of color, especially Black individuals, who have been denied the opportunity to build a better life for themselves and their families due to historic discrimination in U.S. housing policy.
Too many among the general public aren't aware that the egregious racial disparities in the U.S. that exist today — in education, employment, health and wealth — are linked to Black families' exclusion from opportunities to purchase an affordable home and live in non-segregated neighborhoods.
See full page version of the graphic here.
1930s
Having an affordable mortgage helps homeowners save more, invest in education and have greater financial stability. Starting in this decade, millions of white families benefited from private loans insured by the Federal Housing Administration that helped them obtain low-down-payment homes. That hand up provided a foundation for white families to join middle class America, build strong communities and plan for the future.
Black families were prevented from receiving the same life-changing benefits and subsidies through the practice of redlining. Color-coded maps developed by the federal Home Owners' Loan Corporation identified where households of color lived and deemed those "redlined" areas unsafe for lending. The FHA refused to insure loans in redlined communities, and private lenders across the country followed their lead.
1940s
Racially restrictive covenants, or clauses, in deeds also kept Black families from leaving redlined communities. The FHA accelerated the use of restrictive covenants when it began subsidizing subdivision construction in the 1940s. Restrictive covenants placed on the new homes stipulated they could only be sold or resold to white families. Again, private lenders followed suit nationwide.
Black veterans who served their country during World War II weren't immune from housing discrimination. The federal government issued the GI Bill after the war to provide veterans with federally guaranteed, low-interest home loans with no down payment. The loans were originated by private lenders, and most of them practiced redlining. Black veterans were outright rejected by lenders or prohibited from purchasing homes due to restrictive covenants, while white veterans established safe and stable homes for their growing families with the help of an affordable mortgage.
1950s
Another threat loomed for Black families during the 1950s. Urban renewal leveled Black homes and businesses to make way for new downtown office developments, civic spaces and federally funded highways. Black residents were stripped of their properties and forced to start over.
Between 1934 and 1962, households of color received just 2% of all government-backed mortgages, severely impacting their long-term economic mobility. When Black parents were denied pathways to affordable homeownership, it affected their ability to set up future generations for success.
1960s
In 1968, the Fair Housing Act prohibited racially restrictive covenants, but discriminatory practices continued. Communities developed new zoning rules that segregated by wealth and income, requiring large lot and home sizes that drove up home prices. Lower-cost housing options like attached homes and apartments were prohibited. These rules entrenched already established racial segregation. Without entry points to affordable homeownership, most Black families could not afford to live in communities with better school districts and employment opportunities, and many formerly redlined communities continued to be passed over for loans.
1970s
The Community Reinvestment Act in 1977 was meant to hold banks more accountable for delivering fair banking and credit services. But Black Americans continued to face deeply ingrained racism in all kinds of communities, including being targeted by predatory mortgages and refinancing programs.
1980s-2000s
Lack of adequate housing reform during the late 20th century allowed for market practices that continued to disadvantage Black Americans. Racial parity in housing remained elusive, and inequalities worsened. In 2008, the Great Recession disproportionately affected Black homeowners that had been steered into predatory loans and were left more vulnerable to losing their homes, contributing to the homeownership gap progressing little since the Fair Housing Act was passed in 1968.
2020s
COVID-19 and its economic impacts disproportionately impact Black Americans, exacerbating the already vast racial inequities in housing, health, education and financial stability.
Habitat for Humanity, a history of radical inclusivity
While the federal government and private lenders worked to keep Black Americans from accessing affordable housing in the early 1940s, the seeds of what would become Habitat for Humanity were sown at a Christian community in Americus, Georgia, where people of all backgrounds were invited to live in communion and fellowship. At Koinonia Farm, Black and white families worked the land together and earned equal pay for the equal work. In the polarized racial climate of the Southern U.S., they did so at their own peril.
That tradition of radical inclusivity is a core guiding principle of Habitat's work — 40% of Habitat homeowners are Black families, and two-thirds are from non-white households. Habitat is committed to advancing racial equity through advocacy and empowering Habitat homeowners who build their own homes alongside volunteers and pay an affordable mortgage. We understand that we cannot build our way out of this alone, we must also address the systemic inequalities through advocacy and partnerships throughout our communities and networks.
Learn more about Cost of Home, Habitat's U.S. advocacy campaign.