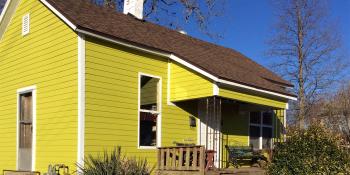 Home improvement before and after
Housing is foundational to the success, strength and stability of each of us. Habitat for Humanity partners with families to build and fortify this foundation in a number of ways. One of these is the rehabilitation and preservation of existing homes.
Browse the projects below to see home repairs that have not only elevated the houses themselves — but also the families within and the communities around them.
Start your own before and after journey! To find out if there is a repair program in your community that you can apply or contribute to, reach out to your local Habitat for Humanity.
1. Grand Rapids, Michigan
Habitat believes everyone deserves a decent place to live. To accomplish this, Habitat Kent works side by side with Grand Rapids-area homeowners to make the critical repairs necessary to keep them safe and stable in their homes.
2. Newburgh, New York
In historic Newburgh, New York, where vacant, substandard buildings are abundant, Habitat Greater Newburgh focuses largely on gut renovations. The effort brings new life to the neighborhood while also offering new beginnings for families.
3. Tampa, Florida
Each repair project overseen by Habitat Hillsborough County in Florida provides an opportunity for Tampa residents to make a lasting impact on their hometown and each other. "Our home preservation program brings people together to accomplish something special — creating and enhancing relationships among neighbors," says Jeremy Cooke, Habitat Hillsborough County's home preservation program manager.
4. Tuscon, Arizona
Most older adults want to stay in their homes as they age, but often lack the ability or resources to keep up their homes' needs in order to do so. Through maintenance support and critical repairs — like replacing deteriorating porch boards that pose a fall hazard — Habitat Tucson helps homeowners safely age in place where they are.  
5. Roanoke, Virginia
In addition to new construction, Habitat Roanoke Valley's efforts also consist of buying vacant and incomplete houses and fixing them up — helping complete both the house and the community.
6. Oklahoma City, Oklahoma
Central Oklahoma Habitat's critical home repair program — which ranges from painting to plumbing repair, weather-stripping to window replacement — was created to help homeowners restore their sense of security while also restoring pride in their home.
7. Milwaukee, Wisconsin
Through volunteer labor and donated materials, Habitat Milwaukee's critical home repair program allows homeowners to afford much-needed renovations in any room. Bathrooms are a specific focus as they're prone to water damage, mold growth and slip hazards that threaten both the short- and long-term health of residents.
8. Roanoke, Virginia
Home by home, Habitat Roanoke Valley's renovation program is revitalizing neighborhoods while increasing opportunities for affordable homeownership. Studies show that compared to renters homeowners are more likely to be invested and active in their neighborhood — further contributing to the cycle of engagement that creates a thriving community.
9. Omaha, Nebraska
With more than 18 million households across the U.S. already paying more than half their paychecks to keep a roof over their heads, there is often little left in the budget to cover repairs or replacements when those roofs fail. Habitat Omaha's affordable home repair program offers residents the resources they need to remain safe, dry and warm.
10. Charlotte, North Carolina
Kitchens should be a place of warmth and of fellowship. An updated, functioning kitchen can revitalize an entire home. "The hope of Habitat is not only in building new, but also in preserving old," says Charles Monroe, critical home repair manager for Habitat Charlotte Region. "It feels good to know that you can bring a house back to be a place of refuge."
11. Newburgh, New York
By concentrating their rehab efforts on specific "anchor blocks" within neighborhoods, Habitat Greater Newburgh aims to build a sense of community spirit with each build. Each transformation helps create a highly visible example that results in an improved neighborhood for all.
12. Tampa, Florida
Starting from the studs, Habitat Hillsborough County builds back vacant and deteriorating houses to ensure they're safe and sturdy for the long haul. Each home saved helps another Florida family and keep materials out of the landfill.   
13. Los Angeles, California
Preserving homeownership for long-term residents can be just as critical as creating new homeownership opportunities when combating the nationwide housing crisis. With soaring property costs across the metro area, Habitat Greater Los Angeles helps families stay in their homes by repairing current issues and connecting them with tools and support to prevent new ones.
14. New Orleans
In New Orleans, it's not uncommon among low-income households for multiple generations of extended family to share a residence. As their homes age, the risks can affect each family member differently — from contributing to poor health among elderly residents to developmental delays among younger ones, says Russell Preston, home repair manager with New Orleans Habitat. Through their repair program, New Orleans Habitat works with families to ensure their home is safe for every stage of life. "Habitat repairs have the potential to deliver a more stable, healthy and livable home environment for everyone occupying the home," says Preston.
Donate now
Every donation makes a difference.