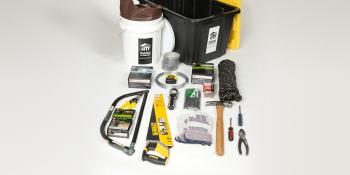 Home repair help prepped for Puerto Rico
Habitat for Humanity's response to the devastation in Puerto Rico caused by Hurricane Maria begins with 2,000 shelter repair kits designed to help families make preliminary home repairs to improve their shelter conditions.
The storm's unprecedented and widespread destruction means that, in some of the hardest hit communities, 90 percent of homes have been destroyed. Habitat's shelter repair kits will allow families to make immediate repairs as we begin the multi-year recovery across the island.
With the help of local staff, Habitat is assessing the damage to homes on the island and will determine construction plans after evaluations. Habitat Puerto Rico has built and repaired homes in the U.S. territory since 1997.
Each shelter repair kit includes:
Five-gallon bucket and lid
Useful for the removal of concrete and debris and can be used to carry water and other essential supplies
Contractor-grade tarpaulin
Durable and flexible and can be used in a variety of ways including creating a roof over existing structures or to use in large or small spaces
Flashlight/radio
Dynamo flashlight and radio can be used to illuminate walking paths and listen for emergency notifications
9-inch snips
For cutting roofing iron, tarps and other construction materials
8-inch pliers with cutting tool
For twisting and cutting wires
Zip ties
Good for temporarily securing tarps
20-inch handsaw
For cutting wood for shelter repairs
21-inch bowsaw
For yard and tree limb cleanup
16-foot measuring tape
For assisting in construction repair jobs
100 feet of solid braided rope
To help secure tarps to posts or trees
100 feet of 20-gauge utility wire
To help secure tarps and other uses as needed
Roofing and framing nails
For attaching tarps and assorted other duties
Duct tape (two rolls)
To connect tarps or patch rips
20-oz. claw hammer
For securing tarps and completing framing repairs, etc.
Leather gloves (two pairs)
To help protect hands and keep workers safe
Slotted screwdriver, Phillips screwdriver and 1-lb. box of galvanized screws
For furring strips
Repair information booklet
In English and Spanish
All of these tools are packed in a container that locks for security. The tote can be converted for a different use later.
*The contents of the shelter repair kits may vary based on availability and need.