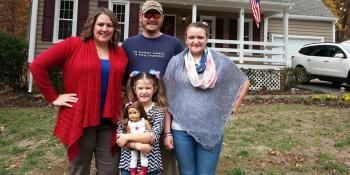 How does Habitat help veterans thrive?
Patrick enlisted in the United States Army at age 23 with the goal of providing a better life for his wife, Christine, and their baby daughter, Samantha. During his nine years in the military, Patrick and Christine had a second daughter, and the family moved numerous times.
As an infantryman, Patrick was deployed and served on the frontline in conflict areas including Iraq and Afghanistan. In Afghanistan, Patrick suffered an injury in combat that prevented him from further service in the military. Once retired, he struggled with post-traumatic stress disorder and the adjustment to returning home.
Two months after leaving the military, Patrick, Christine and their two daughters became homeless but found temporary quarters in a very small, two-bedroom apartment while working with their local veterans service organization to find permanent shelter.
When they were introduced to the Habitat for Heroes program of Richmond Metropolitan Habitat for Humanity, they applied and began the process of buying a safe, affordable home in Midlothian, Virginia, with zero percent mortgage interest.
"To have a forever home is a dream come true for us," Patrick says. "We would not have been ready to purchase a home otherwise, and we are so grateful for this opportunity."
Patrick and Christine completed 10 financial and homeownership classes to ensure they have the tools to thrive as homeowners, and they put in 200 hours of "sweat equity" helping to rehab their home and those of other Habitat homeowners.
After a decade of housing instability, Patrick and Christine and their daughters, Samantha and Elizabeth, now will not have to worry about looking for a place to call home.
"It is nice to know that we have stability," Christine says of the home the family moved into on Veterans Day 2016.
Subscribe to our monthly newsletter
Get the latest Habitat news, volunteer opportunities, DIY tips and more ways to get involved.