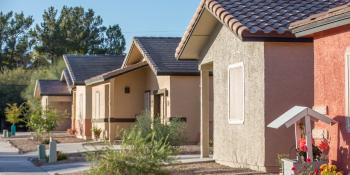 How to make Habitat for Humanity donations
We are able to empower families to build or improve places to call home — and to strengthen their communities — only because of the generosity of supporters like you who fuel our mission.
There are so many ways to make Habitat for Humanity donations, so many ways to make a difference in the lives of families. Here's how:   
Just once makes a difference
A one-time donation to Habitat only takes a few minutes and helps to make a lasting impact for families. Your donation can help a family in need of a decent place to live achieve long-term security. And it even might be a tax-deductible donation for you.
Or make your generosity a monthly occurrence
Become a Habitat HopeBuilder by establishing a monthly donation and providing a consistent contribution to our mission. The process is easy, and your gift will go to work immediately, allowing Habitat's work to continue.
Give in the name of someone special
Donating to Habitat provides a perfect way to mark an important milestone or to remember a loved one. When you make a Gift from the Heart, designate the recipient of a beautiful card acknowledging the donation.
Give through work
Many employers match the contributions of their employees, retirees and employees' spouses, doubling the impact of a donation. Learn if your employer matches contributions today.
Give in kind
Gifts and in-kind donations of all sorts help further our work. We believe there is something every company can give that will allow us to help even more families build better futures.
Give your time
Whether it's a day, a week, or even just a few hours on a Saturday, your dedication and skills, no matter what they are, make a difference. When you volunteer to work alongside homeowners as they build the places they will call home, you are making a direct impact.
Get your company involved
Habitat offers businesses of all sizes an outlet for giving back to their communities. Our customized partnerships can include employee volunteer build days, cause marketing campaigns, product donations, financial support, grants and awards programs, or gifts in kind.
Find your local Habitat ReStore
Do you have gently used furniture or appliances that no longer fit your needs? Or extra building materials taking up space? Donate them to a Habitat ReStore, and the money generated from the sale will help your local Habitat build in your area. Shopping for great finds counts, too!
Participate in Home is the Key
Habitat's nationwide cause movement, Home is the Key, engages partners to call attention to the critical need for affordable housing and activates consumers to join the cause.
Buy, sell, give
Did you know you can donate stock directly to Habitat? It's a simple process that helps ensure families continue to have the opportunity to build the places they will call home.
Drive the work
Cars, trucks, boats, planes — the donation of any vehicle that no longer suits your needs generates funds that stay in your community and help local families build.
Help a loved one help others
Is a friend, co-worker or family member planning to volunteer through one of Habitat's Global Village volunteer trips? Show your support by making a donation toward their trip.
Have a lasting impact
Include Habitat in your will, opt for a charitable gift annuity, or choose one of the many other options in our charitable bequest program that lets you provide for your family while helping so many others.
As you can see, there are so many ways to help build strength, stability and self-reliance through shelter. No matter which is the right fit for you, help create a world where everyone has a decent place to live!
Subscribe to our monthly newsletter
Get the latest news, volunteer opportunities, DIY tips and other ways to get involved with Habitat for Humanity.