Bennie and Chanel White, both born and raised in New Orleans, survived the catastrophic one-two punch of hurricanes Katrina and Rita in the summer of 2005, then spent nearly five years displaced and adrift. Their two teenaged children had to live elsewhere as the parents struggled to regain their footing and rebuild their lives.
Before Katrina barreled over the U.S. Gulf Coast on Aug. 29, 2005, Bennie worked as a welder, Chanel as a housekeeper. In the desperate aftermath of the storm they lost their jobs and moved to Lake Charles, Louisiana, where Bennie found work — until Hurricane Rita hit, less than one month later.
"We lost everything again," Bennie says.
This time the Whites fled to Houston, but what they really wanted was to go home. Finally, in 2010, they did. Partnering with New Orleans Area Habitat, the Whites built a house and brought their family back under one roof.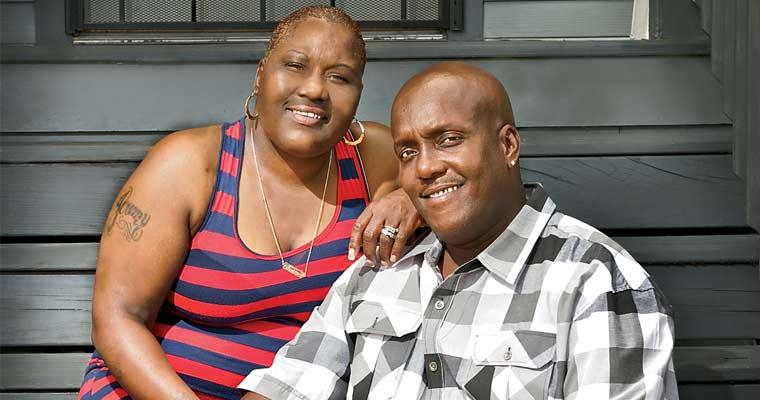 "We love the house," Chanel says. "It's just miraculous. This was one of my personal goals, and I have achieved it. I am a homeowner!"
In the four years they've been in the house, everyone in the family has been able to focus on getting better jobs and even pursuing higher education — which seemed like a distant dream when they were moving around with few possessions apart from the clothes on their backs.
Son Jeremy has taken community college classes, and daughter Bobbiane studies at Cameron College, while working. Bobbiane's two young children, Brooklyn and Dyarie, keep their grandparents' household lively and focused on the future.
"We're very strong as a family right now," Bennie says. "We're in a really good place."
Subscribe to our monthly newsletter
Get the latest Habitat news, volunteer opportunities, DIY tips and more ways to get involved.