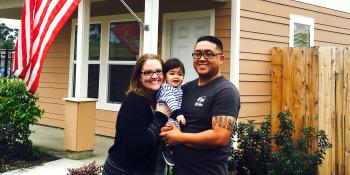 "I can help someone else"
Al served in the U.S. Marine Corps for five years, providing security for Marine One, the helicopter that carries the president. After Al left the military, one thing did not change. "I always wanted to find a way to continue my service," he says.
Today, Al works for San Diego Habitat as its community projects manager, a job that keeps him involved in serving his community and his fellow veterans. As part of his duties, he oversees the local Repair Corps, a Habitat program for critical home repairs for veterans funded by The Home Depot Foundation.
"I was given an opportunity to do this work." Al says. "The pride I have, and the hope and joy I have, is I can help someone else."
Al also has helped his own family become stronger and more stable through his journey with Habitat — a journey that has taken him from volunteer to homeowner to employee.
Al first began volunteering with Habitat after learning about its work through The Mission Continues, a nonprofit that helps veterans adjust to life at home through community service. That was a time of uncertainty and stress for Al, who had been laid off from a job. His volunteer work with Habitat, connecting veterans to resources that could help them, provided an outlet for his desire to help veterans and the larger community.
Al says he was able to share with fellow veterans the work that takes place through Habitat's Veterans Build program.
"We were doing outreach and networking in the veterans community in San Diego," Al says. "And then I was able to connect with various programs and educate those organizations throughout San Diego to say, 'Habitat is wanting to give back to the veteran community and veteran families.'"
During his time as a volunteer, Al attended home dedications and saw firsthand the impact that a stable house could have on the lives of homeowners and their families.
"Without really planning it, I ended up being one of those families," he says. "And it was a blessing."
Al and his wife, Kristin, learned they were expecting their first child and wanted a place that would be a solid foundation for their family, so they reached out to Habitat. "I said, 'Tell me what I need to do to apply,'" he says.
Al and Kristin put in their sweat equity hours, attended financial education classes and prepared to become homeowners. He remembers how hopeful he was for his family as he and his wife worked alongside the volunteers putting up walls and building the house.
They moved into their house in October 2015 and continue to give their time to Habitat, sharing what their home has meant to them and their son, Michael, now a year old.
They speak at homeowner orientations, and Kristin says she "will talk about Habitat to anyone who will listen."
The couple helps future homeowner families in the same way they were helped, Al says. "We meet other families that are going through the same process and are able to support them."
Whether a homeowner or volunteer, Kristin says, "you can become part of something" with Habitat.
Al has found what he was looking for after the military — a way to serve. "I just learned a different way of helping people," he says.
Subscribe to our monthly newsletter
Get our latest news, volunteer opportunities, DIY tips and other ways to get involved with Habitat for Humanity.