A decade ago, the housing crisis in Honduras looked insurmountable. Although the country's Constitution establishes housing as a human right, it's not uncommon for a significant gap to still remain between such a high-level statement and a tangible transformation of the housing and living conditions of citizens.
Many families in Honduras, even with such a constitutional provision, lived in shacks made from whatever scraps of wood or metal they could cobble together.
Single mothers confronted laws and a culture that placed land ownership — and therefore homes where their children could grow and thrive — out of reach. And in some areas, access to affordable land was so hard to come by that even when families scrimped and saved to buy property, they couldn't afford to build a house on it.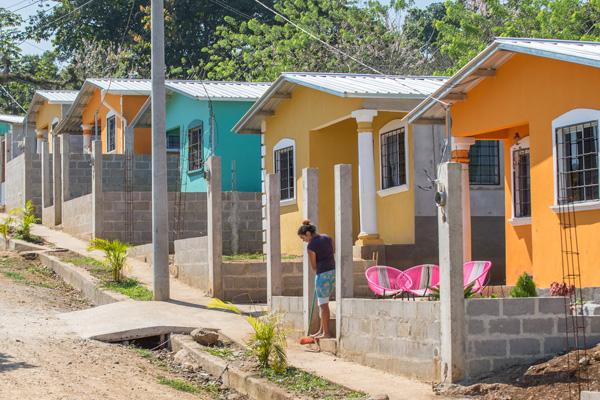 Now, a decade later, the awareness that decent housing plays a pivotal role in overall development is much more prevalent in this Latin American country. The catalyst has been many hands — and many hands working together — to make safe, stable and affordable homes a reality for more and more Hondurans.
Citizens, churches, community groups, government agencies, nonprofits including Habitat for Humanity, for-profits and financial institutions — all have joined forces to advocate for a national housing policy that directs financial and human resources to the most vulnerable families and communities.
How Honduras residents advocate for policy change
This national push builds on the work of groups and coalitions who have been working at the local and regional levels to influence individual municipalities in this small but geographically diverse country.
Habitat Honduras has been at the center of these advocacy efforts from the beginning, facilitating relationships with local municipalities, who have relative autonomy on housing issues, and diagnosing local and regional housing needs in order to better develop locally tailored policies. And those advocacy efforts are paying off.
More than half of Honduras' 298 municipalities have passed housing policies, with a goal of the rest having policies in place by 2018. A study of 102 municipalities that have passed housing policies showed a total increased investment of more than US$40.8 million — an average of 5.36% of the municipal budget — benefiting 106,420 families.
"This union gives us more power to have a greater voice in solving the housing problem," says Alberto Benítez Salem, executive director of Habitat Honduras. "The problem is very big, but we all believe that we can contribute to solving it."
Habitat's global advocacy campaign, Solid Ground, helps countries like Honduras address housing problems through advocacy that mobilizes people and influences laws and policies.
"This union gives us more power to have a greater voice in solving the housing problem. We all believe that we can contribute to solving it."
— Alberto Benítez Salem
In just over a year, Solid Ground already has taken root in 30 countries, from Australia to Cote d'Ivoire, Brazil to Bulgaria, and has helped an estimated 1 million people gain access to land for shelter. In Honduras, Solid Ground is contributing technical and financial support.
"This is very important to us because it has validated the work that we all have been doing for many years," Benítez says.
Barriers to affordable, decent housing
Although the countries participating in the Solid Ground campaign span many time zones, languages and cultures, they share some common barriers that deny people good homes.
Access to affordable land is a major one. Although women are more than half of the world's population, many countries have cultural beliefs or specific laws about land ownership that discriminate against women, single mothers in particular. These roadblocks often leave families with no other option than to seek shelter with friends or move into slums, where one in every seven people on the planet lives.
In Honduras, too many families continue to confront these barriers. But there are fewer in Puerto Cortés, a city on the Caribbean Sea with a housing policy that prioritizes helping people who live in unsafe areas. Today, 83-year-old Estella, who had been living in a shack that frequently flooded, sings and dances around the kitchen in her new home as a hard rain falls.
In Cane, among the first cities to adopt a housing policy, fewer moms stay up all night worrying about where their families live. Milady, a primary school teacher who loves reading to her students, finishes the day reading to her young daughter and son in their new house.
In Santa Cruz, the city government and its partners are focused on making land available for the development of affordable homes. Because of those efforts, José and Martha have been able to buy a piece of property and build a house on it for their two daughters.
A decade from now, many more families in Honduras will know what it's like to dance around the kitchen and read to their children in a safe and stable home.
"If there are these constitutional mandates, people must live in decent conditions, and we are betting heavily on enforcing that right," Benitez says. "It will be very hard. But we have examples that when the population tackles problems together, problems are solved."