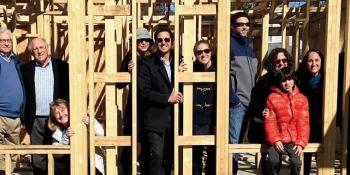 Sometimes a moment of great sadness can be the wellspring for an inspired act of hope.
When Robert Bonder died at 31, his family decided to honor his giving spirit by raising money for a Coastal Empire Habitat house in his memory. Ten years later, they've succeeded.
Robert's sister Cherie Dennis calls the house — and the fundraising effort that made it possible — a perfect fit for her brother. "His life was about helping others," she says, "and he was always interested in housing issues."
Dennis says the effort linked her entire family, who over the years donated to the house fund in honor of birthdays, anniversaries, graduations and other meaningful family moments. "We were almost there," Dennis says, "when my father's 70th birthday came around. He can be hard to buy presents for — he doesn't need a lot of things — and he told me the only thing he wanted was that house."
One more appeal to the extended family put the fund over the top. In November, the Bonder family gathered with the new homeowners to dedicate the Habitat house and conduct a memorial service. "I know Robert would have been proud," Dennis says.