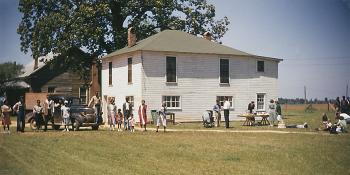 Preserving our past, building our future
On April 1, the Hargrett Rare Book and Manuscript Library at the University of Georgia officially announces the opening of the Habitat for Humanity International collection.
These records, available for research, document Habitat's early history and development and consist of correspondence and files, photographs like the ones featured in this slideshow, newsletters, and artifacts. Habitat's archives join related collections in the Hargrett Library including the Millard and Linda Fuller papers, the Fuller Center for Housing records, and the Clarence L. Jordan papers.