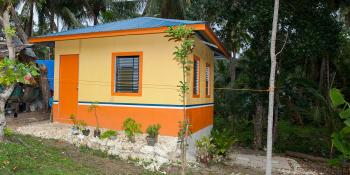 At 34, Marlito Sarda had seen his share of natural disasters in the Philippines. But the earthquake that struck the island province of Bohol in 2013 was different. "I thought it was the end of the world," Sarda says.
At the time, he shared a small house with his ailing mother and three nephews. His mother suffered serious injuries in the earthquake and died soon after. Sarda and his nephews pitched a ragged tent of plastic scraps a short walk from their collapsed home.
Then, just three weeks after the quake, Super Typhoon Haiyan — one of the strongest storms ever to make landfall — devastated the islands, killing more than 6,000 people and delaying recovery efforts.
By early 2014, brightly painted orange-and-yellow Habitat houses had started dotting Bohol's lush landscape like beacons of hope. Sarda and his nephews soon moved into one of 70 houses funded by the Union Bank of the Philippines. The houses use an innovative technology of bamboo-reinforced concrete over metal framing that makes them much more flexible and resilient than traditional concrete blocks.
Sarda's new home can be expanded as his resources allow. For now, he and the boys — aged 6, 8 and 20 — keep the one-room house in pristine order, with a neatly made bed in one corner and a tall bookcase separating sleeping space and living area.
It's a simple home, Sarda says. But compared to four months of sleeping on scrap materials under a tarp, it is a palace. "It will be much easier to take care of my nephews and keep them safe in this new house," he says. "I feel good about that."
Subscribe to our monthly newsletter
Get the latest Habitat news, volunteer opportunities, DIY tips and more ways to get involved.