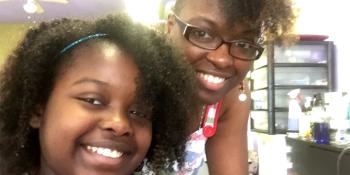 Self-reliance
Paterson, New Jersey
Ronessa is just a few years shy of paying off her mortgage with Paterson Habitat. That partnership, she says, has given her so much more than a home. 
Before becoming a homeowner, she was required to take financial literacy courses. She took that knowledge and opened her own business, a hair salon.
"Habitat showed me how to have a strategic plan," she says. In fact, she named her company A Strategic Plan Beauty Spot. "The name only means something to me. Everyone else calls it 'Ronessa's place on the corner,'" she laughs.
Ronessa loves the independence that Habitat has allowed her to have. In return, she volunteers her time as a member of Paterson Habitat's board. "I wake up grateful that I am a homeowner and that I control my circumstances," she says.
Those circumstances include having raised two daughters in her home. "If I had to pay a regular mortgage and for college and run a business, could it have happened? I'm not sure," she says. "But I was able to do it."
Ronessa still has her third child, Chrislynn, at home. The 10-year-old is a straight-A student and very active in their church, Ronessa says with pride. When she is not in school, Chrislynn likes to hang out with her mom at the beauty salon.
"At the end of the day, we get to come home to our house," Ronessa says. "It is a great feeling."