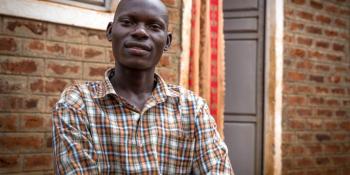 Self-reliance and stability in Uganda
When Job Kalulu was still in primary school, his family lost their home.
As sometimes happens around the world, Job's mother was evicted from their home by extended family when Job's father died. The family fled to a nearby village, where they found shelter in a single-room structure but lived among goats and chickens, battling fleas and a leaky grass-thatched roof.
Today, however, Job's family lives in a four-room Habitat home, with improved sanitation, a rainwater collection tank and solar panels on the roof.
"We could not believe that we were finally moving from the single room forever," Job recalls. "We had never stayed in a cemented house before."
When a vulnerable family like the Kalulus partners with Habitat Uganda, one family member also is selected for vocational training to help ensure the economic sustainability of the family.
Job, who learned to be a carpenter, earns enough making furniture to pay school fees for his younger siblings. He also is teaching carpentry to several of his friends — "I want them to succeed and live better" — and dreams of expanding his business to neighboring villages.
Since 1982, Habitat Uganda has built, repaired or improved houses, helping families like Job's to achieve stability and self-reliance through shelter.