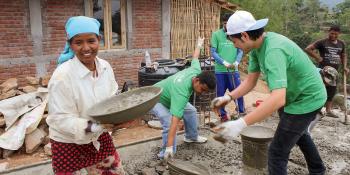 Skills to rebuild communities in Nepal
In Nepal, Habitat has helped residents like Sharada learn the skills needed to help rebuild their communities following the devastating earthquakes of 2015. Habitat Nepal, with partner ASF, is now helping those rebuilding in 16 different wards of the two affected districts of Kavrepalanchowk and Nuwakot.
Twenty-three-year-old Sharada is the first and only female mason in the severely damaged village of Pipaltar. She and her family received one of the more than 5,000 temporary shelter kits that Habitat Nepal distributed in response to the disaster, and Sharada is now involved in building homes in her community.
More than 400 residents have been trained and are supporting reconstruction initiatives in their communities. Sharada is among the 146 local community members who have been trained in masonry skills. Another 20 people have received training in making concrete earth blocks.
"I have struggled immensely, but I have made it on my own. Women need to join this line of work; if we are together, we can make a bigger difference and show the world we can do anything."
— Sharada, Habitat homeowner
Families rebuilding their homes can receive technical and site supervisory support from Habitat Nepal. Housing support services centers set up on Habitat Nepal build sites to facilitate quality construction of disaster-resilient homes, and engineers and site supervisors are on hand to advise families on construction standards.
Wearing what she calls her "America" boots given to her by a volunteer, Sharada mixes concrete and says, "I have struggled immensely, but I have made it on my own. Women need to join this line of work; if we are together, we can make a bigger difference and show the world we can do anything."