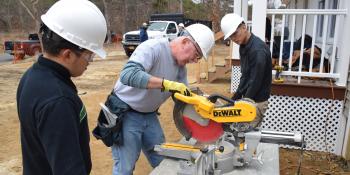 Student volunteers develop trade skills on build sites
As the storm clouds of Hurricane Sandy rolled over New York's Long Island in October 2012, then-12-year-old Dylan Mercado and his family knew they needed to get out. They packed up their five pets and what they could of their home and headed inland to seek refuge with relatives.
Hoping for the best but fearing the worst, the Mercados returned days later to assess the damage. "There was still about three feet of water," Dylan recalls. "It was so sad to see our house like that." Unable to live there, the family moved into a trailer parked on their front lawn.
Over the next two months, friends and family showed up, helping the Mercados restore what they had lost while reminding them of what had been gained: a community of helpers. "Together, we replaced and rebuilt most of the house," Dylan says. "We put down the plywood across the beams so we'd be able to walk around. We had to make a new deck, paint, lay new tile, buy new appliances, everything."
Now a high school senior, Dylan uses his experience to pay it forward. The 18-year-old is one of several dozen students enrolled in William Floyd High School's two-year carpentry program to offer upperclassmen hands-on skill development and technical training.
Students who complete the program graduate with the skills necessary to qualify for an entry-level carpenter or carpenter's apprentice position. Through the school's partnership with Habitat for Humanity of Suffolk County, students are able to hone many of these skills by building up the neighborhoods and homeowners around them.
Since 2015, more than 150 students enrolled in William Floyd's Building Trades & Construction Academy have applied their in-class lessons to the construction of six Habitat homes. The partnership gives the students the opportunity to shadow carpenters, painters, masons and other trade professionals on build sites.
"We just know it's going to be a great day when the students are coming out to build," says Les Scheinfeld, Habitat Suffolk County's director of development. "And this carpentry program is even more exciting because these students are focused and so excited and willing to work and learn."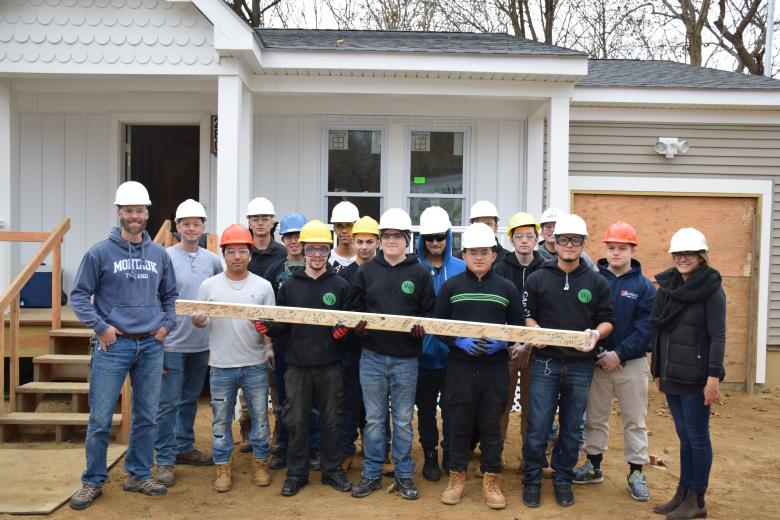 The partnership with the high school also allows Habitat to extend its reach in an area where affordable housing is in short supply and the foreclosure rate is higher than the national average.
"Some families in our community here at William Floyd, they have a hard time finding a home, staying in a home," says Matthew VanHorne, William Floyd's carpentry teacher. It's been great for the kids to connect with homeowners and the community through the program, he says. "I think it's had a big impact on everyone."
For Dylan, that impact is palpable. The carpentry class quickly became his favorite, not only for his newfound ability to contribute to his community and to his own home but for the confidence it has granted him. "It gives me a purpose," he says. Plus, he finds it fitting to finally be able to give back in the same way he's received.
"When Hurricane Sandy hit me, people came to help us. It feels good to help out other people."
Subscribe
Sign up for our monthly newsletter for more stories and the latest news, volunteer opportunities, DIY tips and other ways to get involved with Habitat for Humanity.